Omigod! Legally Blonde: The Musical Brings Class Act to Hatfield Hall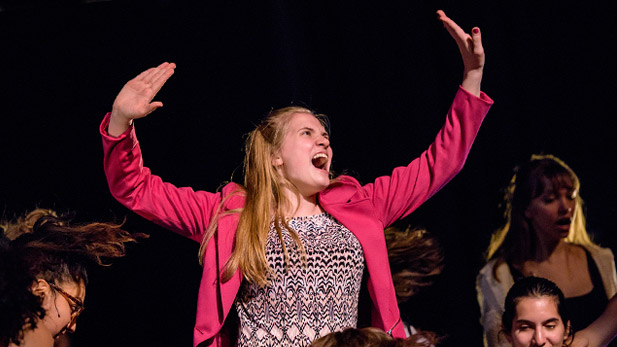 Satisfy your pink-clad, inner Chihuahua with the delightfully engaging Rose Drama Club production of "Legally Blonde: The Musical," April 20, 21, 22, 27 and 28 at Rose-Hulman's Hatfield Hall.
You'll love the light-hearted music, dancing and comedy of this smash Broadway production chronicling the adventures of Elle Woods, a perky college sorority girl whose law school-bound boyfriend, Warner, decides he needs someone a little more serious as his life partner. Crushed, but not ready to surrender, Elle decides law school is the way to win him back, so follows Warner to Cambridge.
To say Elle was unprepared for the rigorous and cut-throat nature of law school is an understatement. However, with the help of her own personal "Greek Chorus" made up of her Delta Nu sorority sisters, and a few new friends, Elle proves she can tackle law school without losing her inner perkiness.
Not just a story about an unlikely sorority girl bringing her bright pink personality into a prestigious law school, "Legally Blonde: The Musical" is a story about being true to yourself, shunning rejection and discovering your true self-worth.
Most importantly, "Legally Blonde: The Musical" is entertaining with lots of catchy, lively and fun musical numbers, dancing and colorful sets. Of course, there's a love story (or two) buried in the plot, lots of silly humor and an engaging story carrying a touching and meaningful message.
Join the Rose Drama Club as they perform this fun and satirical Broadway hit featuring numbers such as "Omigod You Guys," "Blood in the Water," and "Take It Like a Man." Based on the 2001 film Legally Blonde, the large cast and lively action will keep you smiling for the entire show.
Student performers include freshman Emily Dougherty as Elle, sophomore Michael DeBrota as Warner, sophomore Ryan Roetker as Emmett, senior Caroline DeBrota as Paulette, freshman Ethan Baker as Callahan, freshman Kayleigh Doyle as Brooke Wyndham, Junior Lauren Wiseman as Vivienne, and an amazing cast of actors and dancers, crew, and orchestra of talented Rose-Hulman students.
Friday and Saturday shows are at 7:30 p.m. on April 20, 21, 27 and 28. There's also a 1:30 p.m. matinee on Sunday April 22. 
Tickets are just $20 for adults and $15 for those under 18, and are available at hatfieldhall.com, by calling 812-877-8544 or visiting the Hatfield Hall ticket desk Monday-Friday from 9 a.m. to 2 p.m. or one hour before the show.