Global Project Earns Top Marks for Civil Engineering Seniors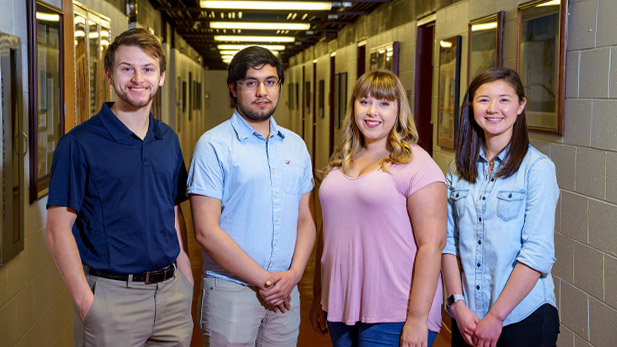 Designing a new school complex for a remote village in Ghana is another example of Rose-Hulman Institute of Technology students going to the ends of the earth to help others through valuable hands-on educational experiences.
And, it was an award-winning one as well.
The Children of the Ark school of Mamprobi, Ghana, is currently teaching classes in temporary structures. Learning is especially challenging during rainy weather. So, four senior civil engineering students have designed a three-story, two-wing school complex that could be constructed in the future. 
The team had to consider available local building supplies and construction methods in designing a 13,000-square-foot complex that features classrooms, a nurse's station, computer lab, library, living quarters for temporary faculty and a playground – within a small building site.
The project also took into consideration geotechnical and environmental challenges in hopes of setting a solid foundation for new global educational opportunities for youths in the African country.
"The challenges were many, especially when you consider that we were working on this project for a client that was thousands of miles away," says team member Guy Yager, who designed aspects of the project's foundation, basement and geotechnical features.
Meanwhile, Carolyn Donohoe and Alex Lutzow worked with Children of the Ark officials to provide several buildings to meet the school's short- and long-term needs, including making sure all structures could withstand seismic shifts and weather conditions. Emily Tomey worked on environmental issues, including designing a sustainability system to collect rainwater for use in several areas of the school compound and by neighboring residents.
"This was a full-scale project that required the students to utilize all of the skills and abilities they have learned. It truly was a capstone educational experience," says the project's faculty mentor John Aidoo, who as a native of Ghana provided valuable assistance to the project development.
The students' work on the project earned first-place honors in this year's Indiana American Society of Civil Engineers' collegiate design competition. This continued Rose-Hulman's reputation of success in this annual gathering of engineering students from throughout Indiana.
Another civil engineering international client-based project had seniors designing a guesthouse for mission teams visiting the Haitian Christian Outreach program in Peredo, Haiti. The guesthouse could be constructed on a hill that overlooks the community. The project development team included Isabella Evans, Nigel Hensley, Jordan Miller and Collin Wojcik.
Back in the U.S., seniors Ian Grafe, Seth Knoll, Alissa Kowalski and Carly Parsons designed a visitor center in Virginia Beach, Va., for the Chesapeake Bay Bridge and Tunnel District, in conjunction with the City of Virginia Beach and the Eastern Shore Tour Commission.
The Polish Scouting Organization of Illinois sought ideas about how to renovate barracks at a camp to accommodate 100 scouts, redesign of wastewater and drinking water systems, assess ways to revitalize a lake and examine wetland crossings to support heavy equipment. Students tackling this mission were John Evans, Kate Kasch, Will Klausler and Andrew Snyder.
Several community involvement projects were completed this year, including Junfei Cai, Taylor Knoblock, Jared Knox, Elijah Lloyd and Antonio Martinez designing a 10-acre indoor/outdoor sports complex near the municipal airport in Columbus, Ind. The City of South Bend sought improvements to a city park, including design of a boat launch, from students Michael Brown, Cole Fiscus, Jake Johnson and Grant Shortridge.
Safety measures for a 65-foot-high earth dam that's been rated a hazard for nearby homeowners were considered by Devin Niebrugge, Maddie Pritchett, Madeline Romeo and Justin Vogel. A roadway modernization project in Bloomington, Ind., was completed by Kaelen Garner, Chenkai Hang, Michael Landwehr and JD Portz. Meanwhile, Devon Brown, Ethan Flook, Ashton Foushee, Ethan Kieffner and Zack Murphy designed an extension to a bicycle/pedestrian trail across the Wabash River in Lafayette, Ind.
The senior capstone projects are supervised by Department of Civil and Environmental Engineering head Kevin Sutterer. Faculty serving as project mentors were James Hanson, Kyle Kershaw, Matt Lovell, Michelle Marincel Payne, Jennifer Mueller Price, Michael Robinson and Aidoo.