Faculty, Staff Retiring After Rewarding Careers Teaching, Serving Students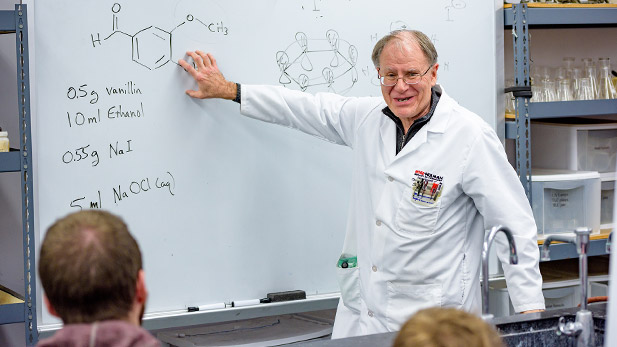 Bruce Allison and David Erwin have donned the roles of a monk and research scientist and utilized fire, liquid nitrogen and glass blowing to showcase the many ways chemistry has impacted society.
At the same time the longtime chemistry and biochemistry professors have played a significant role in teaching elements of organic and inorganic chemistry that have paved students towards careers in science, engineering and medicine.
Allison and Erwin will soon hang up their lab coats to end a combined 72 years of teaching, scholarship and student mentorship on campus. They are among several distinguished retiring faculty and staff members this school year.
Department of Chemistry and Biochemistry head Michael Mueller points out that Allison was one of the first college professors to incorporate molecular modeling software into their classrooms. He also was an influential faculty mentor to members of the InterVarsity Christian Fellowship chapter and lent his trumpet-playing talents to perform alongside students and faculty colleagues on the institute's concert band.
Meanwhile, Erwin's passion for general chemistry impacted first-year students throughout his teaching career, and his popular one-person "From Magic to Miracles: A Dramatic Romp Through the History of Chemistry" show got audiences of all ages interested in chemistry through campus performances at Operation Catapult, Parents Weekend and National Chemistry Day events.
"Bruce has been a real innovator in organic chemistry education and made a tremendous impact on many students, while many students comment about Dave's energy and enthusiasm in his classes," Mueller says.
Erwin taught classes every academic quarter during his 32-year career at Rose-Hulman.
Other legendary educators retiring from their classrooms are mathematics professor Ralph Grimaldi, after 42 years, and mechanical engineering professor Wayne Sanders, after 38 years.
Grimaldi earned the Dean's Outstanding Teacher Award in 2010 and the Board of Trustees' Outstanding Scholar Award in 1993 for his expertise in discrete mathematics, combinatorics and graph theory. His textbook "Discrete and Combinatorial Mathematics: An Applied Introduction" is in its fifth edition and has been translated into several languages for worldwide distribution. Sanders helped develop engineering design courses for Japan's Kanazawa Institute of Technology and has taught at Malaysia's Shah Alum. He also is a licensed small aircraft pilot and once owned his own plane.
Influential retiring staff members are Associate Vice President and Dean of Student Affairs Tom Miller, after 38 years; Director of Human Resources and Title IX Coordinator Kim Miller, after 24 years; residence life housekeeper Pat Fields, after 37 years; and Assistant Director of Financial Aid Luann Hastings, after 28 years. Tom Miller and Fields are past recipients of the President's Outstanding Service Award.
Other staff members retiring this school year are Mike DeVylder, after 23 years taking care of the institute's grounds; Cyndi Erwin, after 18 years as the chemistry stockroom manager; Randy Stakeman, after 16 years maintaining residence halls and the student union; Sue McGranahan, after 16 years in residence life housekeeping; and Nancy Reisinger-Randall, after 15 years with residence life housekeeping.