As Commencement Nears, Class of 2018 Has High Job Placement, Record Starting Salary Average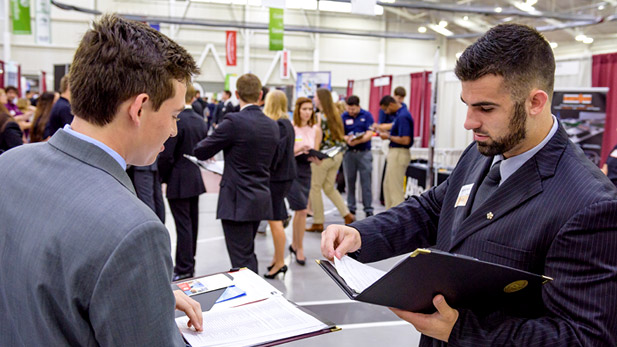 Graduating seniors from Rose-Hulman continue to benefit from high demand for employees with job skills in science, technology, engineering and mathematics. Members of the college's Class of 2018 had 86 percent job placement heading into the last weeks of their undergraduate academic careers.
The Office of Career Services and Employer Relations reports this year's job placement rate is the highest for May 1 since 2015 and one of the top percentages in school history for this period. Meanwhile, the $71,080 average accepted starting salary offer for 2018 prospective Rose-Hulman graduates is an all-time high for the institute.
"The market demand remains significant for students in STEM-related programs with strong skills in problem solving, creativity and working in teams," says Scott Tieken, associate director of career services.
Demand has been extremely high during the 2017-18 recruitment cycle for graduating seniors in civil engineering, computer science, computer engineering and electrical engineering, according to Tieken.
The top employers of Rose-Hulman's Class of 2018 so far have been Rockwell Collins, Naval Surface Warfare Center-Crane, ArcelorMittal, Boston Scientific, Cummins, Edgile, Texas Instruments, Allegient, Eli Lilly and Company, North American Stainless and Valeo.
Associate Director of Career Services Kathy Kassissieh reports that 392 companies across the U.S. have reached out for the first time to seek Rose-Hulman students for full-time, internship or co-op work opportunities.
Several of this year's graduating seniors are also planning to continue their educational careers in graduate school, with 63 graduate school offers received so far and another 22 students interested still investigating their future educational options. A record 63 graduate school programs attended Rose-Hulman's annual Graduate School Fair last fall.
A total of 1,311 interviews were conducted on campus during the 2017-18 school year with graduating seniors or underclass students, many of these interviews resulting from the 402 companies that attended three career fairs, 351 other companies recruited on campus and 694 companies engaged with the Office of Career Services and Employer Relations to seek possible applicants.
"Interest from companies is already high for next fall's career fair," Tieken said. "It could be our biggest event yet."
Rose-Hulman's 2018 commencement will be May 26.