Alumnus, Federal Appellate Judge Robert Wilkins Helps African-American History Find Its Place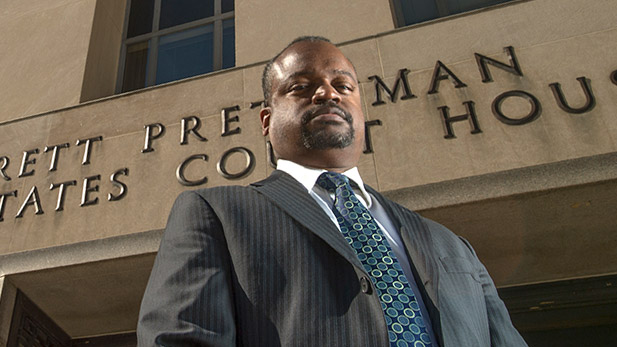 Robert Wilkins takes great pride in the popularity of the National Museum of African-American History and Culture in Washington, D.C., and how it is showcasing the many ways the African-American experience has helped shape the nation.
Wilkins is a chemical engineering alumnus who now helps decide cases as a U.S. Court of Appeals judge in the nation's capital. Along the way, he served on the Presidential Commission created by Congress to plan for Smithsonian's newest museum and secure its location on a five-acre site within the National Mall near the Washington Monument.
The mission wasn't easy, as Wilkins chronicled in the book, Long Road to Hard Truth: The 100 Year Mission to Create the National Museum of African American History and Culture, published in the fall of 2016 to coincide with the museum's opening.
Wilkins will discuss the long struggle by many different people and organizations to create the museum during an event on campus March 28. Besides signing copies of his book from 6 p.m. to 7 p.m., he will talk about the museum and its creation from 7 p.m. to 8 p.m.
Both events in the Lake Room of the student union building are being sponsored by Rose-Hulman's Center for Diversity, Diversity Council and student chapter of the National Society of Black Engineers. They are free and open to the public, but online reservations are requested.
Long Road to Hard Truth serves as both a history lesson and personal memoir. Wilkins writes about listening to African-American elders relay stories of joyous courtship rituals and family life from long ago; of attending all-Black, one-room, ramshackle schoolhouses; and of suffering the indignities inflicted on African-Americans—but also of the camaraderie at the marches and sit-ins during the Civil Rights movement.
"I wondered why African-Americans didn't have a museum to share all these wonderful stories," says Wilkins. "It became an obsession. The more I learned about the history, the more I wanted to become involved to make this happen."
Efforts to create a memorial in honor of the nation's black soldiers of the Civil War started in 1916, but later expanded into a vision for the national museum. However, several obstacles and world events put the museum at the bottom of America's priorities. Wilkins revived the idea and worked with Congressman John Lewis and other African-American civic leaders to make it a reality. The museum has 35,000 artifacts on display, including an actual auction block, shackles and a cabin from America's history of slavery; a Ku Klux Klan hood; a segregated railcar; and the track cleats Jesse Owens wore in his gold medal-winning performances at the 1936 Olympics. The names of more than 2,200 people known to have been lynched between 1882 and 1930 line the walls of one museum gallery.
"There were bumps, setbacks, and plenty of doubts," Wilkins says of the efforts to establish the musuem. "This was something that had to happen. For most of our history, African-Americans were not seen or heard. This museum is helping bring the country together. People are coming away from visiting the museum with a new appreciation of the many sacrifices that African-Americans went through and progress we have achieved."
Approximately 3.4 million people have visited the museum since its opening in the fall of 2016.
Wilkins is an inspiring story himself. The son of a single mother in Muncie, Ind., he went on to become Rose-Hulman's distinguished graduating senior in 1986. A law degree from Harvard Law School followed in 1989. As a partner at Washington, D.C.'s Venable law firm, Wilkins specialized in white collar defense, intellectual property, and complex civil litigation, and was named one of the "90 Greatest Washington Lawyers of the Last 30 Years" by Legal Times in 2008. He continues to have national impact as a judge on the U.S. Court of Appeals for the District of Columbia Circuit, since his confirmation by the U.S. Senate in early 2014. Later that year Wilkins was awarded an honorary doctorate of engineering from Rose-Hulman, and in 2017 he returned to his alma mater to speak at commencement. He also received the Alumni Association's Honor Alumnus Award in 2005.