Exotic Car Auction to Endow Faculty Chair
Monday, February 27, 2017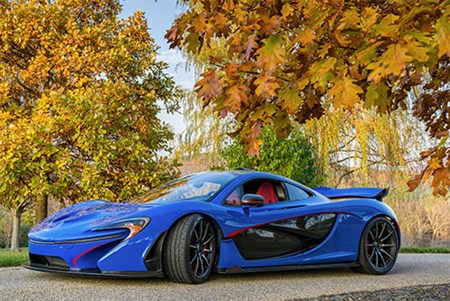 Special Vehicle: The McLaren's P1 is a hybrid gas-electric car, with carbon-fiber architecture, that's considered a pioneer in its field. It is specially commissioned by an alumnus in 2013. (Photo courtesy Gooding & Company)
Philanthropic gifts to colleges and universities come in all shapes and sizes—including, at Rose-Hulman, the sleek form of an elite sports car valued at more than $2 million.
A rare McLaren P1 with several customized high-tech features is going on the auction block March 10, with proceeds to endow a faculty chair at Rose-Hulman, a national leader in undergraduate science, engineering and mathematics education.
Because of its unique features, the sports car is expected to garner between $2 million and $2.3 million.
The McLaren is owned by a Rose-Hulman alumnus, who will use the sale proceeds to establish the Alfred R. Schmidt Chair for Excellence in Teaching, honoring one of the institute's legendary faculty members. The owner wishes to remain anonymous at this time.
The 2015 vehicle helped turn the fortunes of McLaren Automotive and helped put the iconic automotive brand alongside Ferrari and Porsche in the exotic car marketplace. The hybrid gas-electric car, with carbon-fiber architecture, is considered a pioneer in its field, causing the model to be sold out within a few months of its October 2013 offering.
Making the McLaren P1 version even more distinctive is the car's extensive custom craftsmanship, which was signed and approved by Frank Stephenson, McLaren Automotive's head designer, and Ron Dennis, the company's leader. It has been nicknamed "The Professor."
The auction house, Gooding & Company, is billing the car as "a showcase of cutting-edge technology and inspired design applied to automotive engineering." The car's precision acceleration, handling and braking is capable of "delivering an exhilarating ride on the track, a rewarding drive on a favorite winding road, as well as remarkable convenience and comfort for the urban commuter," the promotional materials tout. It has reached speeds of 200 mph on the open road.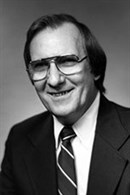 Alfred R. Schmidt
"Given Rose-Hulman's national reputation for excellence in science, engineering and mathematics education, we think it fitting that such a high-performance, beautifully engineered car is representing the university at the Amelia Island auction," says Rose-Hulman President Jim Conwell. "The impact of this gift on teaching and learning cannot be overstated."
The Schmidt Chair will support creation of transformative learning experiences in the classroom and provide opportunities for national engagement with other exceptional scholars.
"At Rose-Hulman, we are laser focused on educating the next generation of STEM professionals," remarks Anne Houtman, vice president for academic affairs. "We have always invested in teaching, and this generous gift reinforces that commitment while enabling us to continue attracting and retaining world-class faculty. I can't think of a better way to honor Professor Schmidt's legacy."
Schmidt was one of Rose-Hulman's most loyal alumni and longest-serving professors, an inspirational mathematics professor for 46 years until his retirement in 1995. He helped launch the institute's successful Operation Catapult, a program that has brought rising high-school seniors to campus each summer to learn about science and engineering. The 1949 mechanical engineering graduate died in 2007.