"Rose Pedal" Takes 1st and Makes a Splash Down Under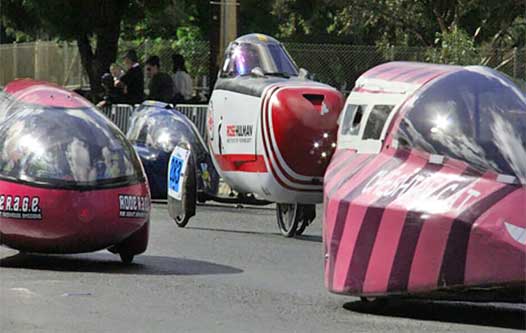 Two firsts marked the 2016-2017 season for the Human Powered Vehicle Team (RH HPVT). In April, the innovative vehicle dubbed "Rose Pedal" scored first overall at the ASME HPVC North America East competition at Tennessee Tech, marking the 13th such victory for Rose-Hulman. In May, RH HPVT became the first U.S. team to compete in the Pedal Prix at Loxton, Australia.
At the ASME competition, Rose Pedal brought home first place in the Innovation category, along with second place in Design and in Women's Sprint and third in Men's Sprint. This year's vehicle reflected Rose-Hulman's customary engineering prowess. Judges particularly liked Rose Pedal's self-righting feature, which uses accelerometers and motors to automatically re-orient the vehicle if it begins to roll.
Michael Moorhead, associate professor of mechanical engineering and advisor to the HPV team, characterized the weekend as "exciting and very wet."
In May, Moorhead and John McSweeney (assistant professor of mathematics) accompanied six students to Australia for the Pedal Prix, where Rose Pedal drew great interest because of its innovative design. Commentators and spectators marveled at how the vehicle was unique in being able to lean in corners "like a motorcycle." One of the world's premier HPV events, this year's race on the streets of Loxton drew a record 95 teams. Recognizing the significance of Rose-Hulman's trans-Pacific trek, Moorhead was asked to join the mayor of Loxton in serving as a flagman for the event.
The Pedal Prix is a very different competition from the ASME events which RH HPVT often dominates. At heart, Moorhead noted, this is an athletic event. All teams are on the track simultaneously and charge hard for six hours. Rose Pedal performed as designed, with no major mechanical problems. The team finished respectably in the middle of the pack despite the extended race time against well-trained athletes. Rose-Hulman's contingent comprised juniors Ariella Halevi (team president), David Sampsell (vice-president) and Nico Price (secretary) and graduating seniors Drew Miner, Zeke DeSantis and Ben Stevens.
As always, the opportunity to design, construct, document, test and compete with a human powered vehicle presented challenges to master and a portfolio of real-life lessons. This year's effort also enhanced Rose-Hulman's international profile and added to a growing reservoir of good will.