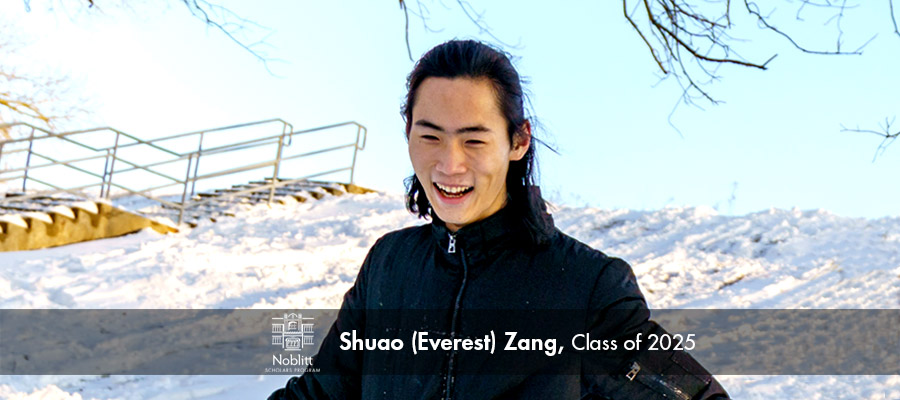 Shuao (Everest) Zang, a mechanical engineering major who just completed his first year, is fully embracing his life as a student at Rose-Hulman. Originally from Beijing, China, Zang wanted to attend a small engineering school in the United States. In just his first year on campus — from faculty interaction to access to hands-on equipmens — he admits Rose exceeded his expectations. 
From a young age, Zang has been interested in hands-on projects, building and learning what makes things work. That interest led him to choose mechanical engineering as a major. While he is still deciding what specifically he wants to focus on, he believes mechanical engineering will give him a strong base for future learning. 
Zang is impressed with the level of involvement Rose students have with professors and how much access undergraduates have to faculty.
"I talk to many of my friends at bigger universities and they are shocked that I can actually talk to my professors at Rose," says Zang. "With the small class sizes, you can interact with professors and visit them in their office hours." 
Through his involvement in Rocketry Club, Zang has been able to get to know many faculty. Zang also believes access to hands-on equipment through the Branam and Kremer Innovation Centers (BIC and KIC) is another big reason Rose stands out as a unique school for undergraduate students. The BIC and KIC labs are open workspaces where students collaborate to bring ideas and projects to life. As part of the Rocketry Club NASA competition, Zang and his partner built a rotating antenna and its stand in the BIC lab and used a 3D printer to create the connecting pieces for the device. 
"The hands-on equipment at BIC is amazing and really blew me away," says Zang. "There were so many pieces of equipment I've never seen or used back in China. If you want to do something, go to BIC and you can achieve what you want."
Rocketry Club is just one campus organization with which Zang has found a niche. He belongs to the astronomy club and plays badminton. He is involved with Residence Hall Association through BSB Hall. Zang also plays guitar and performed in the Engineers in Concert last quarter. All the clubs and organization have given Zang many opportunities to connect and build relationships with students. 
"I made friends here that I would never have met in China or other places," says Zang.  
Zang is also a Noblitt Scholar and participated in the Noblitt leadership course last quarter. As part of his Noblitt work, he plans to start a project related to recycling on campus. For example, he plans to post signs next to campus printers encouraging students to save half the printer life and paper by choosing double-sided printing. 
While he is still unsure what his future plans beyond Rose will hold, Zang knows he wants to work in the field of aerospace.
"Space is pure science," he says. "It's not about making a fortune or selling things. It's pure and I love that. There is so much we can learn about space and we know so little about what is out there now. To be a part of that would be amazing."