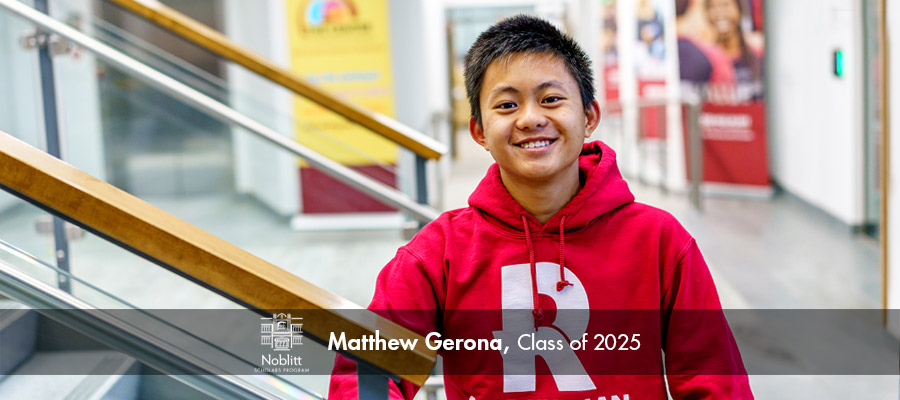 Matthew Gerona, a first-year student majoring in chemical engineering, heard of Rose-Hulman through posters offering the Ask Rose tutoring services that hung on the walls of his Crown Point, Indiana, high school. When he learned his pre-calculus professor was a Rose alumna, he was curious about the institution and talked to the school representatives at a college fair. After attending a large public high school, Gerona was looking for a college with small class sizes and a personalized feel. Once he toured the campus and started experiencing life at Rose-Hulman, Gerona knew he made the right choice for his college experience.
"I wanted a small, private school experience," says Gerona. "Here at Rose, I walk around campus and see so many faces I recognize and that's really nice. This school is really an underrated gem and a beautiful campus."
While Gerona is a self-described history buff (late Roman history, before the fall of the Roman Empire), he chose to study chemical engineering because of the challenge chemistry has provided him.  
"My high school AP chemistry class was the first time I encountered a subject where I felt challenged and I had to study for each test," he says. "The challenge is what drew me to chemistry. The chemical engineering major will give me options and provide me with a solid background in STEM." 
While Gerona is still unsure of his post-college career path, he is leaning toward working in the field of chemical engineering for several years and then becoming a professor. Gerona worked as a peer and private tutor in high school. As a tutor, he loved explaining concepts and then found it incredibly rewarding when the information "clicked," and the student understood the material. 
"I really like teaching chemistry and teaching these types of concepts, even more than applying them," he says. 
In just his first year at Rose, Gerona had the opportunity to meet personally with his faculty adviser and finds the professors to be extremely responsive to emails and requests for office hour appointments. He had the opportunity to meet several chemical engineering professors while attending an American Association of Chemical Engineers dinner.  
Outside of his academic work, Gerona is making time to enjoy student life at Rose-Hulman. He joined Student Government Association (SGA) and serves as a senator representing the three floors of Speed Residence Hall. He is a member of the Chem-E Car Club, serving on the equipment team. In addition to club activities, he was a frequent attendee of Rose football games.
Gerona is also an avid runner and spends time running on the trails at Hawthorn Park, located directly behind the Rose campus, as well as the National Road Heritage Trail that runs adjacent to campus. He has also participated in a 5K at the Hulman Farm nature property across the street from Rose. 
Gerona is proud to have been selected as a Noblitt Scholar and is serving on the activities sub-committee helping to plan social events, including a recent bowling outing. He participated in painting of the Spencer Ballpark's shelter and looks forward to planning more events for his fellow Noblitt scholars.