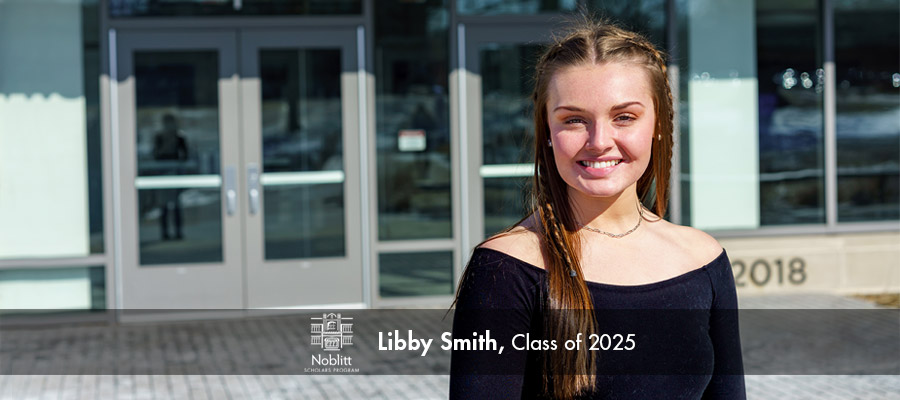 Libby Smith may only be a first-year student, but she's already learned a valuable lesson about what makes Rose-Hulman her perfect college choice.
"At a bigger school, I would have gotten lost in the crowd," she says. "But here, if you take advantage of the resources and network, it's easy to thrive."
Smith is a mechanical engineering major from Williamsport, Indiana. She chose Rose for its close-knit community and one-on-one faculty-student interaction the school offers. She also recognized the variety of clubs and campus opportunities allow students like herself to grow and form a personal college community.
Smith loved math and science from a young age, always getting excited for class projects and building and design competitions. She knew in middle school that engineering was her future path and found mechanical engineering to offer the widest variety of career paths. She is also pursuing a minor in systems to help augment her studies.
"Within mechanical engineering, I'm really interested in production and lean manufacturing," says Smith. "Eventually, I may want to work at a consulting firm that goes into plants and facilities to help them streamline processes and implement new systems."
Smith credits her Rose professors with helping her succeed as a first-year student and loves that faculty are excited seeing students achieve their goals. Additionally, she has already gained valuable hands-on lab experience at Rose.
In one of her classes, she and a team of students participated in a contest to design a landing gear link. The goal was to design the lightest piece possible, yet is also durable and strong. Smith and her classmates ran calculations, designed a link out of nylon, and tested it in class. She enjoyed seeing all the calculations and design come to life in a real setting, and her team won the competition.
After her first year at Rose, Smith will study abroad for two weeks in Germany where she will work as part of a manufacturing team within a company. When she returns to the United States, she will begin work at her summer internship with Endress+Hauser in Greenwood, helping the company remedy its supply chain issues. Smith met representatives from Endress+Hauser at the fall campus career fair and obtained the internship with help from the Rose-Hulman Office of Career Services.
Before starting her first year at Rose, Smith participated in a ten-day trip to the boundary lakes of northern Minnesota through the Noblitt Scholars program. The trip included ten days of no phones or electronics, and daily 12 hours of complete solitude. She went on the trip not knowing any other students and found it to be an incredibly eye-opening experience.
"I got so much perspective out of it," says Smith. "When you're without your friends, family and the stimulation of phones and computers, it brings a sense of complete serenity and knowledge. It was really a great opportunity."
Smith enjoys her involvement in campus activities, including American Society of Mechanical Engineers (ASME) and serving as fundraising and marketing co-manager of Engineers Without Borders. She also runs for the Rose cross-country and track teams.