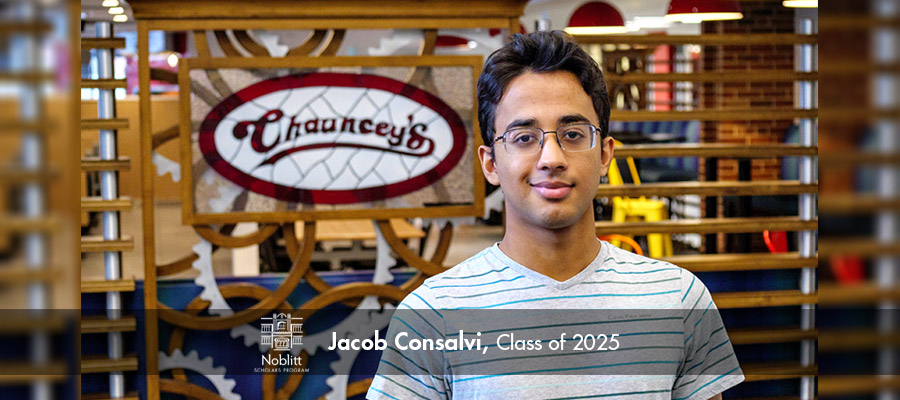 Jacob Consalvi, a first-year student from Vienna, Virginia, heard of Rose-Hulman from his ninth-grade math teacher. Consalvi made a mental note of Rose as a potential engineering school, visited the campus a few years later and decided it was the college choice for him.
"When I visited the school, I really liked the feel of the campus," says Consalvi. "I like how it's a small campus environment. I talked to many students and professors, as well as other students who were from my high school, and they really liked Rose. I got the sense I could really fit in the environment here." 
Consalvi is majoring in electrical engineering and will soon be declaring a double major in computer science. His interested in STEM and engineering started in elementary school with robotics and 3D printers. The draw to robotics continued throughout high school and now at Rose. 
"I've done lots of robotics projects and competition, and one thing I was always interested in is communication and signal processing," he says. "That's what made me choose electrical engineering. The choice of computer science was more motivated by robotics, because you can't have a robot that functions without the programmer writing code to make it work."
Consalvi says one of the best aspects of being a student at Rose-Hulman is the hands-on approach to learning and access to labs. He and three other engineering students are developing an ion thruster that uses lower-costing carbon dioxide as a propellant, rather than a more expensive substance like iodine. While the thruster may not have a practical application in space craft, he believes it will be an excellent learning and research tool for those working in electrical propulsion without investing a lot of money in expensive materials. 
This type of hands-on research project is an example of what students can achieve as an undergraduate at Rose. While Consalvi is still deciding what his post-graduate future in engineering and computer science will be, he will likely attend graduate school and work toward a career related to mechatronics or robotics.
When he's not studying or working in the labs, Consalvi is a road cyclist and enjoys spending free time on his bike. He is currently not involved in a particular campus club at this time but uses his experience to write code and look at schematics on an as-needed basis for the Rocketry Club and other campus organizations.
Consalvi is also a Noblitt Scholar and feels the community he's formed within that group, and at Rose as an institution, has been invaluable to his growth and college success.
"Other than being academically supportive, it's also been fun," says Consalvi. "[Recently] we built a whisk to a drill attachment in the machine shop and made whipped cream. We just had fun and laughed at the experience. … It's such an awesome feeling to be surrounded by a bunch of people who are like minded and we can support each other while we strive to reach our goals."