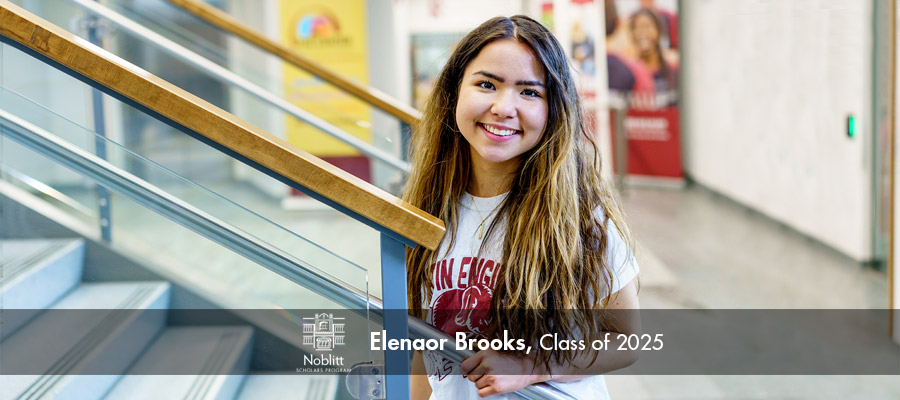 Elenaor Brooks, a first-year student majoring in computer engineering, has only been a student at Rose-Hulman for less than a year. But already, she's found a place where she feels changed for the better. 
"Rose helps you find parts of yourself that you never would have discovered otherwise," says Brooks. "Rose is where you want to go to be pushed and challenged. You don't want to go where you're comfortable, because what's comfortable is not what will make you happy. You, as a person, are made to grow."
Hailing from Carmel, Indiana, Brooks was familiar with Rose-Hulman through her sister who is a Rose alumna. Attending Operation Catapult during her sophomore year of high school is what solidified Rose as Brooks' college choice. Catapult is a two-week-long summer program on the Rose-Hulman campus that allows students to experience college life and explore STEM projects. Brooks' interaction with faculty during that time is what really made Rose-Hulman stand out.
"The biggest reason I came to Rose was the faculty I met at Catapult," she says. "They could do a million other things because they're all brilliant. But they're here to teach us. And they care about students, holistically, as learners and as people who will impact the future."
Brooks is interested in studying data visualization in the medical field. She was first drawn to data science in while working with her father on a project that involved examining biogenetics to modulate breast cancer for Eli Lilly and Company.
"My dad and I talked about what we can do in the software and medical field with organizing people's data in a comprehensible way and use machine learning to predict drug interactions and reactions in patients," says Brooks.
Brooks has enjoyed getting involved in campus activities during her first year. She joined the Rose cheerleading team for the football season and is a Noblitt Scholar. She also spends a significant amount of time in the ROTC and National Guard undergraduate programs. She is one of three first-year students on a ROTC scholarship and commits one weekend per month working for the National Guard. Brooks is contracted with the National Guard for six years, four of those years as a Rose-Hulman student.
Upon graduation, Brooks will be commissioned as a second lieutenant and serve her remaining two years. She is leaning toward using her experience in computer engineering and data science to pursue a cybersecurity career for the Army or Guard.
Whether she's learning in her computer engineering classes or building a robot in a lab, Brooks is grateful Rose-Hulman is giving her the opportunity to learn and succeed, which she felt all the way back to her Operation Catapult experience.
"The biggest message I got from Rose is that if we accept you, we know you can succeed," she says. "You're given everything you need to succeed on this campus. All you need to do is take that initiative and you can do it."