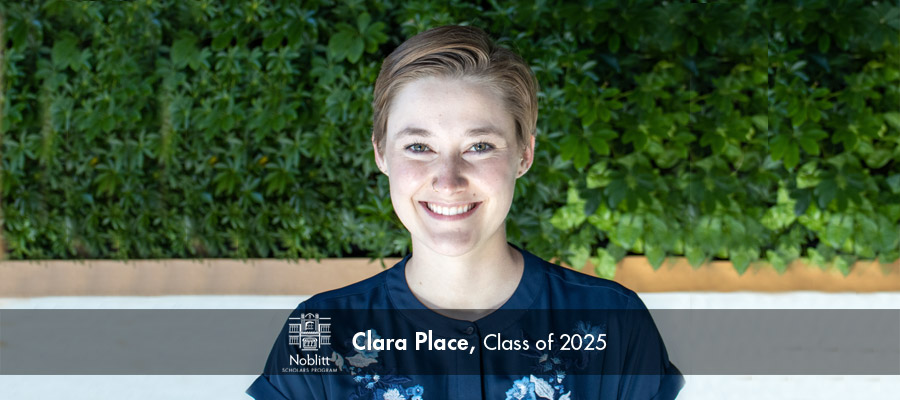 If Clara Place could give one piece of advice to prospective Rose-Hulman students, she would tell them not to be afraid to choose math as a major.
"People always ask what careers are available to math majors, because there's not a clear path like there is with, say, civil engineering," says Place, a first-year student majoring in mathematics. "But everyone needs math major students. And since I'm a bit unsure of what I want to do post college, math is not limiting me in any way. In fact, it actually opens up so many possibilities."
Place hails from Bishop, California, a small town in the northern part of the state. She's always had an appreciation for math and credits her junior year calculus professor as an inspiration for wanting to study the subject in college. She first became aware of Rose-Hulman when a high school and mathlete friend made Rose his college choice. When she began her own college search, she looked for schools with small class sizes and a reputable math major. She found both things in Rose-Hulman. 
"Bishop is a very small town and in high school, I knew all my teachers personally," says Place. "So, I wanted small class sizes as opposed to large lecture halls, and a place that is more personable than a large university. I wanted a STEM school, but also a place where humanities are present as well."
Place made an in-person visit to the Rose-Hulman campus in March 2021 after narrowing her schools down to three. After spending time on campus and feeling how friendly and welcoming the community was to Place, she knew Rose-Hulman was her college choice.
Place began her stay at Rose in the summer with a small group of 22 other first-year students as part of an early-start accelerated math and physics program. She appreciates that in just those first few months, she was able to participate in hands-on lab work. 
"Since my high school was so small, we didn't necessarily have a lot of funding for new and updated equipment," says Place. "It was nice to have access to lab settings and equipment so early in my college career." 
She has also found the professors to be open and encouraging.
"Last quarter, I went to physics office hours every week to get help and ask questions," says Place. "One professor said we could message him anytime, even on weekends and at night. That really shows the open-door policy is used and encouraged. They are approachable and have allowed me the extra help when I need it."
She's also talked with her professors about the possibility of a second major in biomathematics to compliment her growing interest in biology or the natural science application of math. Place plans to attend the winter career fair in the hopes of securing a math-science lab research position for the summer.
When Place is not studying math, she enjoys both academic and social activities on campus. She is a member of the Association for Women in Mathematics and participated in the SCUDEN differential equations challenge. As a Noblitt Scholar, she has participated in painting park murals and admits to really enjoying having a community of likeminded students to reach out to and talk with in the halls. Place also enjoyed spending time with biomathematics majors and faculty to decorate holiday cookies.