Next White Chapel Recital Featuring Indiana State University Faculty String Trio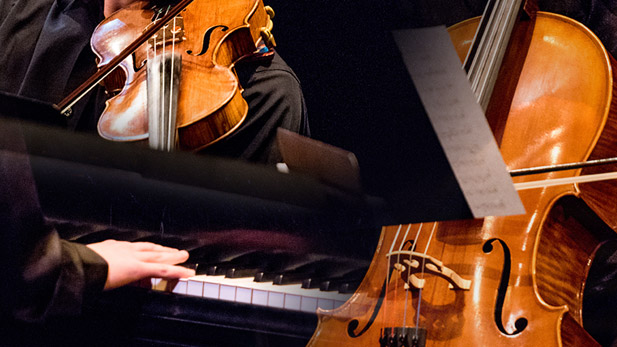 A trio of distinguished string musicians from Indiana State University's School of Music faculty will be featured in a special recital Tuesday, March 27, at Rose-Hulman Institute of Technology's White Chapel.
The 7:30 p.m. show, which is free and open to the public, is part of Rose-Hulman's 2018 Spring Recital Series, showcasing classical musical selections from the 18th and 19th centuries. The series is sponsored by the institute's Department of Humanities and Social Sciences.
Cellist Kurt Fowler, pianist Martha Krasnican and violinist Erik Rohde will present selections by Johann Sebastian Bach, Ludwig van Beethoven and Johannes Brahms.
Fowler has performed throughout the United States, as well as in Europe, as a soloist, chamber musician and orchestral musician. He is an advocate of contemporary classical music and is the artistic director of ISU's Contemporary Music Festival. Fowler has commissioned and performed new works, receiving five ISU Arts Endowment Grants resulting in new works for cello and alto saxophone, with colleague Paul Bro.
Krasnican is the director of the accompanying music program at ISU, and as a collaborative artist has worked with major performers across North America and Europe. In 2007, she performed the complete works of Beethoven for cello and piano with Fowler. Krasnican also has performed as a soloist with the Terre Haute Symphony Orchestra, premiering two piano concertos written for her by her husband, Daniel Powers.
Rohde is the director of string activities at ISU and works extensively with performing new music from the 20th and 21st century. He is an advocate for young, relatively unknown composers and has brought many new works to life through concerts and tours. Rohde has academic degrees in violin performance and biomedical engineering.
Rose-Hulman's Spring Recital Series will conclude May 6 with a concert featuring Indiana University piano instructor Clare Longendyke.
The White Chapel is located on the west edge of the Rose-Hulman campus. There is parking available near the building.
For more information about the series, contact David Chapman, Rose-Hulman's assistant professor of music. He organized the series as part of classes he's teaching on music from the Baroque, Classical and Romantic eras.