Conwell Inducted into Vanderbilt's Academy of Distinguished Engineering Alumni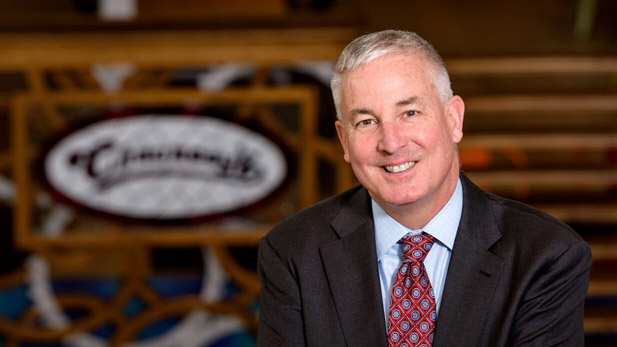 Rose-Hulman President Jim Conwell has been inducted into the Vanderbilt University School of Engineering's Academy of Distinguished Alumni for his professional achievements as a leader in higher education and industry.
Vanderbilt Engineering Dean Philippe Fauchet called Conwell and the newest Academy members "influencers" with tremendous impact. "They have broken barriers, built outstanding careers, and guided and shaped engineering education while enriching the lives of those in their communities and beyond," Fauchet states.
In 2013, Conwell became Rose-Hulman's 15th president and has continued to help the institute build on its reputation as the top undergraduate engineering school in America, while also earning national recognition in science and mathematics education. He has concentrated on increasing opportunities for students from across the world to attend the college, forged relationships with business and industry, and expanded opportunities for students to develop the entrepreneurial mindset to address 21st-century challenges.
The native of McMurray, Pa., completed a doctorate in mechanical engineering, with a minor in electrical engineering, at Vanderbilt in 1989. He earlier received bachelor's and master's degrees in mechanical engineering from the University of Tennessee. In addition to finding educational and research opportunities at Vanderbilt, Conwell also had the opportunity to teach a number of undergraduate classes.
His relationship with Vanderbilt continues as a member of the School of Engineering's Board of Visitors, a group of distinguished alumni and friends that advises, reviews and supports strategic plans, and assists in developing beneficial relationships with industry, government and other academic institutions.
Upon graduation from Vanderbilt, Conwell took faculty positions at Louisiana State University and Grove City (Pa.) College. His research at both of those institutions focused on developing assistive devices for the disabled. At Grove City, he held several administrative positions, which included serving as head of the mechanical engineering department and director of computing initiatives.
Conwell left academia to become principal in a startup focused on the design and build of specialized test facilities, including jet engine test stands, rocket engine test stands, and both high-speed and low-speed wind tunnels. This work took him to more than 25 countries, and he was licensed as a professional engineer in a number of states and the European Union. His company was sold to Jacobs Engineering, where Conwell then served as a senior vice president, overseeing design/build projects in the pharmaceutical, petrochemical and mining industries.
Conwell and his wife Angela, also a mechanical engineer, have two adult children.