Alumni Entrepreneurs Share Insights During Inaugural Sawmill Society Weekend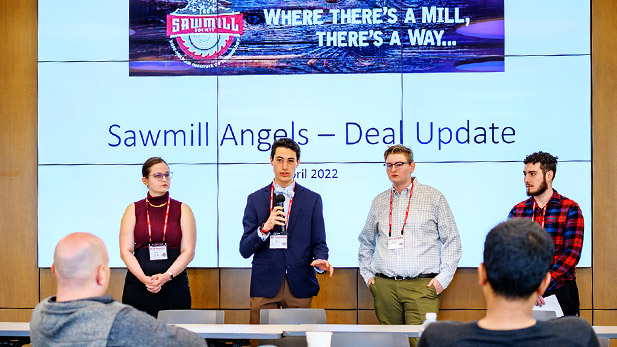 A network of innovative, entrepreneurial-minded alumni who have successfully started high-tech ventures gathered at Rose-Hulman this spring to share their insights and experiences through a new and enterprising dimension to the top-ranked undergraduate science, engineering and mathematics college.
The inaugural Sawmill Society Weekend featured sessions on lessons learned in forming a startup company, bringing diversity to entrepreneurship, and angel investing, while providing opportunities for Rose-Hulman students and alumni to network, provide valuable feedback and possibly support future endeavors.
The Sawmill Society is a group of innovative and forward-thinking alumni and friends of the institute who know what it takes to be a successful entrepreneur. They have founded or help lead successful tech and business enterprises throughout the country.
Society members returned to the Terre Haute, Indiana, campus from as far away as California, Texas, Colorado, Florida, and New Mexico to participate in the event. 
"Entrepreneurism is part of Rose-Hulman's DNA for many, and this event was the latest example of how the Sawmill Society is helping facilitate a natural pipeline between our entrepreneurial-minded alumni, students and the local community," said Rose-Hulman President Robert A. Coons. "This program is providing them with a structured and supportive entrepreneurial ecosystem in which to share their innovative ideas, industry insights and expertise, while keeping the Rose spirit of giving alive."
Jeremy Clarke, a 2009 software engineering and computer science double major, presented successful entrepreneurial lessons that are featured in his book "Bootstrapped to Millions." He started his first enterprise, Vortex Web Solutions, before attending Rose-Hulman. Then, with mentorship from 2001 computer engineering alumnus and successful entrepreneur Dustin Sapp (founder of NoInk, Vontoo and Octiv; now president of Formstack), Clarke took an idea for the WebMerge software business from startup to earning millions in annual profits, without any investors or employees. His current venture is Addio, a web source used to save and share important information.
"I'm giving back because of all the helpful advice I received for others, some of them being alumni. There's a kinship and support group that all alumni entrepreneurs share. We're not afraid of all the hard work that it takes to be successful," said Clarke, who lives in Manhatten Beach, California. "We've navigated our way through the rough pathways of running an entrepreneurial enterprise. Hopefully, some of those lessons – both the good and the bad – can help others who wish to follow."
Dung Duong, a 1989 alumnus, has turned degrees in mechanical engineering and optical engineering into a career as an executive respected for simplifying complex problems, providing innovative solutions, and meeting difficult schedules. Since August of 2021 he has been co-founder and chief technology officer of Libra Design, an Austin, Texas-based engineering servies firm specializing in horticultural lighting. He previously co-founded Fluence Bioengineering and Illumitex, was a senior technical consultant in LED and optics technologies, and was a senior optical engineer with Luminex Corporation – all in Texas.
"We need to pass along our knowledge base to the next generation of engineers, technicians and scientists. Hopefully, I can make a difference for others," he said.
Duong participated in a Diversity in Startups panel session, sponsored by Indianapolis' The Startup Ladies organization. The session also featured computer engineering, mathematics and engineering management alumna Virginie Adams, co-founder of Kolbus and Adams Holdings in Indianapolis; 2006 computer engineering graduate Koushik Subramanian, founder of Chicago-based drophouse.art and Kopper Labs; and Carla McFarland, a principal consultant with Alrac in Texas and parent of a Rose-Hulman alumnus. 
Members of the Sawmill Society's Angel Network discussed "Learning About Angel Investing" and heard virtual startup pitches from alumni who are seeking venture capital and mentorship to support their entrepreneurial aspirations.
Angel Network co-founder/chairman Chris Piedmonte is encouraged with how the Sawmill Society has grown in the past 3½ years to include 81 members, with 17 providing a structured and systemic approach to mentorship, and nearly 30 angel investors. The Sawmill Society's Ventureship program is expected to provide its first paid opportunities for Rose-Hulman students to spend this summer working under the guidance of an alumni mentor to launch their startup projects.
"Hopefully, this (Sawmill Society) weekend is the start of great things for this group. I believe this is the future of alumni involvement in Rose-Hulman and a great way for alumni to give back to the institute," said Piedmonte, a 1985 electrical engineering alumnus who is managing director of the NeoTerra Capital startup investment and advisory firm based in Austin.
Already reaping Sawmill Society benefits is budding entrepreneur Jacob Oblazny, a junior mechanical engineering major, who made a presentation on "How I Started as a Student." He is director of peer mentorship and an officer with the Rose Innovative Student Entrepreneurs Club, an organization dedicated to promoting entrepreneurship on campus. Oblazny has started one enterprise, has been involved in making successful pitches to prospective investors, and is scheduled to serve an internship this summer with Pacergy, a startup by Sawmill Society member and 2015 electrical engineering alumnus Thomas Foulkes, PhD.
For more information about the Sawmill Society, contact Christian Shuck at shuck1@rose-hulman.edu.