Students Honored for Academic, Leadership Excellence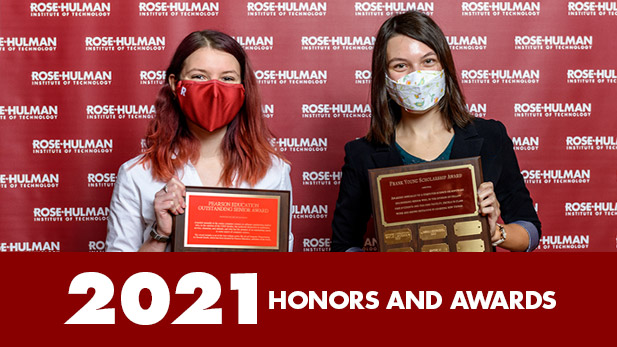 Students were honored for their distinguished scholastic achievements, academic extracurricular activities, and for showing promise in their engineering and science career fields during the 2021 Honors & Awards Ceremony.
Awarded medals for top grade-point averages were Kaylee Pate, recipient of the Carl Wishmeyer Award, Colin Beach, recipient of the Paul N. Bogart Prize, and Jared Poston, recipient of the Heminway Bronze Medal. These awards are based on grade-point averages at the conclusion of the third, second and first year of residence on campus, respectively.
Students named Carl Wischmeyer Scholars were Karen Folz, Marc Hournier, Hailey Heidecker, Andrew Johnson, and Wesley Turner.
Students honored as Paul N. Bogart Scholars were Abigail Clayton, Michael Hall, Thomas Hoevener, Brendan King, Taryn Perry, Reed Phillips, Chengyu Qian, Cory Snyder, Jacob Tebbee, and Danielle Villa.
Receiving Heminway Scholar awards were first-year students Willie Bowman, Cody Brelage, Cooper Brotherton, Austin Choi, Ryan Foster, Alec Goodrich, Zili He, Joseph Lahmann, Seth Lakstins, Tretter Lyons, Julia McGuire, Andrew Orians, Emily Padgett, Lucas Pickens, Emily Rose, Jackson Todd, and Cehong Wang.
Students receiving academic department honors were:
Biology and Biomedical Engineering
John M. Beals Outstanding Graduating Biology Student Award: Grant Stamper; Elisa Weber
Samuel F. Hulbert Outstanding Graduating Biomedical Engineering Student Award: Marily Arboleda
Chemical Engineering
Elanco Award for Excellence in Chemical Engineering (awarded annually to a member of the junior class): Taryn Perry
Archer Daniels Midland Award for Excellence in Chemical Engineering Award (awarded annually to a graduating senior): Karen Folz
Sam C. Hite Award for Outstanding Senior in Chemical Engineering (awarded annually to the graduating senior showing the greatest promise for a successful career): Justin Starke
Chemistry and Biochemistry
John White Award in Chemistry: Tim Harris; Cameron Shane
William Albert Noyes, Sr. Award in Chemistry: Kara Skorge
Civil and Environmental Engineering
American Society of Civil Engineers Alumni Award (awarded annually for outstanding contributions to Rose-Hulman's ASCE chapter): Dawson Allen
Morris L. Cleverley Award (awarded annually to an outstanding senior): Stella Cheesman
Shelton Hannig Award (awarded annually to an outstanding senior): Lauren Conley
Edward A. MacLean Award (awarded annually to an outstanding student who has completed the junior year): Jonathan Boutell
Computer Science and Software Engineering
Pearson Education Outstanding Senior Award: Joanna Garrett
Frank Young Outstanding Service Award: Cherise McMahon
Frank Young Outstanding Senior Scholarship Award: Jessica Myers
Electrical and Computer Engineering
Outstanding Senior Award: Coleman Weaver (Electrical Engineering); Pierce Ferner (Computer Engineering)
Outstanding IEEE Member: Hailey Heidecker (Electrical Engineering); Piotr Galas (Computer Engineering)
Clarence C. Knipmeyer Award (awarded annually to students completing the junior year with the highest grade-point average): Hailey Heidecker (Electrical Engineering); Wesley Turner (Electrical Engineering); Andrew Johnson (Computer Engineering); Marc Fournier (Computer Engineering)
Humanities and Social Sciences
Research and Analysis Essay Award: Lyra Lee; Jenna Strassburger
Interpretation of Texts and Cultures Essay Award: Olivia Ehrlich
Rhetoric and Composition Essay Award: John William Gardner
Elmer and Deanna Guerri Scholarship in Anthropology: Noah Millard; Kierra Rogers
Mathematics
Henry Turner Eddy Award (Applications of Mathematics): Reed Phillips; Bohdan Vakhitov; Andrea Wynn
Henry Turner Eddy Award (Theoretical Mathematics): Thomas Hoevener
Theodore Paine Palmer Award (awarded annually to first-year mathematics students for demonstrated excellence in mathematics): Ashka Dalal; Shyam Ravishankar
Mechanical Engineering
Senior Mechanical Engineering Student Leadership Award: Sarozhani Hunter
The Cummins Inc. Outstanding Senior Year Award: Josh Krsek
Military Science
Captain "Sarge" Kearns Leadership Award: Patrick Vedova
CPT W.D. Weidlein Volunteer Leadership Award: J.J. Faught
Physics and Optical Engineering
Jean M. Bennett Outstanding Graduating Optics Student Award: Zhaowei Chen
John W. Rhee Memorial Outstanding Physics Senior Award: Timothy Li; Nate Fried
Wilkinson W. Meeks Award (Excellence in Acoustics): Mattias Memering
Perry Family Astronomy Award (presented for significant astronomy contributions): Kayleigh Doyle
Engineering Physics Senior Award: Alec A. Sanabria