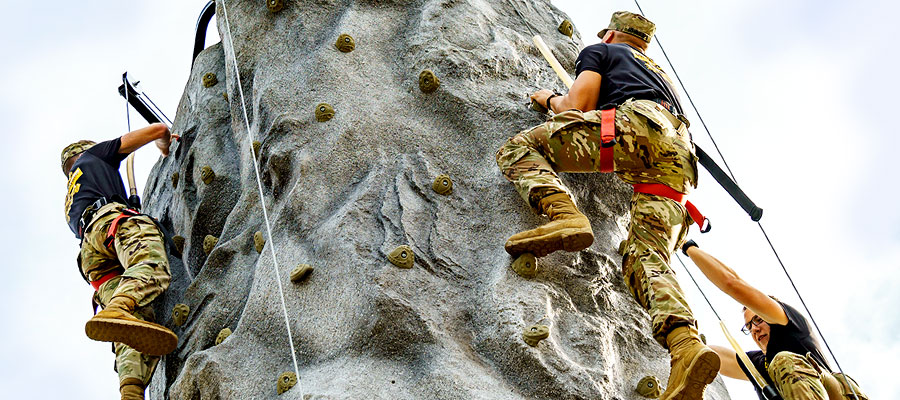 Army ROTC is an elective curriculum you can take in addition to your required college courses and concludes with becoming commissioned as an Officer in the Army. The program provides tools, training and leadership opportunities to not only help prepare you for success in the military but in any competitive environment.
 
ROTC at Rose-Hulman - One of the best in the nation
Recognized in 2023 as the top performing collegiate program among all military branches, Rose-Hulman's ROTC program has a rich and accomplished history. The ROTC program has won the prestigious Department of Defense ROTC and Partner Institution Excellence Award and MacArthur Award for its performances in readiness training and commissioning lieutenants for military service.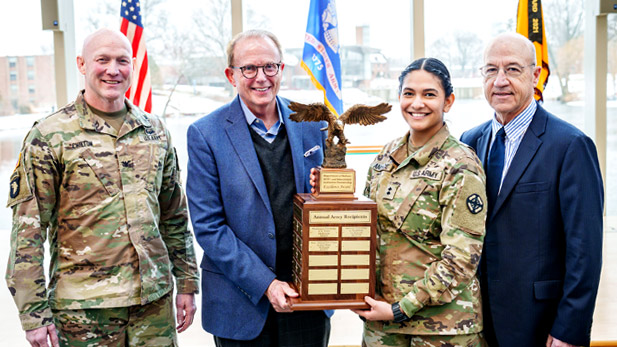 Rose-Hulman Army ROTC includes many schools within the Wabash Valley from Greencastle to Terre Haute to Evansville. In fact, the University of Evansville has a proud history of ROTC dating back to the 1960's. In addition to UofE, Indiana State University added ROTC for cross-enrollment in 1967 and DePauw University followed in 1974.  Cross-enrollment contracts with St. Mary-of-the-Woods College and Vincennes University began in 1976 and the University of Southern Indiana program began in 2004. With Rose-Hulman Institute of Technology as its operational base, these aforementioned schools make up the Wabash Battalion Army ROTC!
A Proud History
On September 10, 1874 Chauncey Rose formed a corporation called the Terre Haute School of Industrial Science. On September 11, 1875 the Board of Managers changed the name of the school to Rose Polytechnic Institute.
After hosting a unit of the Student Army Training Corps and playing an active role in training engineers and mechanics for the Army during World War I, Rose Polytechnic Institute was authorized to have an ROTC Engineer unit in 1919. The unit was organized by Captain William D. Weidlein, Corps of Engineers, in March 1919. Initial enrollment was 111 cadets, of which all but eight had been in the Student Army Training Corps.
On 8 June 1922, Charles D. Baker and Leroy A. Wilson became the first graduates of the ROTC unit at Rose Polytechnic Institute to receive commissions into the Engineer Reserve Corps as Second Lieutenants.
Graduation was advanced to 9 May in 1942 so that ROTC graduates could take their oath of office and enter military service earlier than usual. During World War II ROTC at Rose Polytechnic Institute was supplemented by an Army Specialized Training Unit.
During the post war period of 1946-1950 the college graduated seniors and took in freshman every quarter. This increased the college enrollment, but ROTC enrollment was the lowest in the detachment's history during this period because most students were veterans.