Rose-Hulman Maintains High Job Placement Amid Pandemic
Monday, December 14, 2020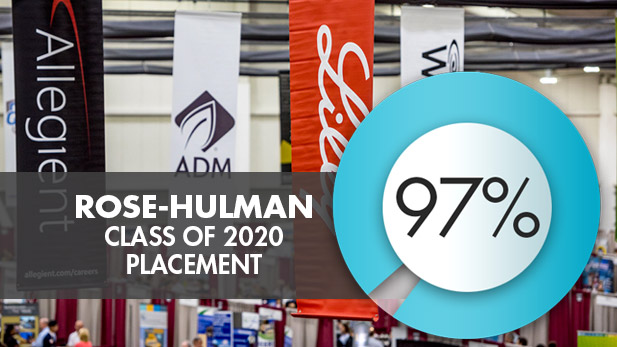 Economic challenges from the coronavirus pandemic haven't kept Rose-Hulman from achieving commendable marks for job placement, starting salaries, and graduate school opportunities for its graduates.

Rose-Hulman's Class of 2020 had a 97% placement rate within six months of their graduation on May 31. This statistic covers job hires, graduate school acceptances, and military leadership roles for all 467 members of the Class of 2020. That percentage is just shy of the six-month placement rate for the Class of 2019 and is on par with Rose-Hulman's annual placement statistics, which have varied between 96% and 99% since 2011, according to the Office of Career Services and Employer Relations.

Other facts from the Class of 2020 Placement Report are:
• $76,253 average accepted starting salary – an all-time high and increase from 2019's $72,577 average
• $150,000 high starting salary – a record – for one graduate, a computer engineering major; graduates in four other majors were above $100,000
• 942 companies – another record – recruited students through the Office of Career Services, including the first virtual spring career fair
• 94 students going onto graduate school – matching 2016's previous record

"Under the circumstances, the Class of 2020 placement rate and salary levels are commendable when you consider that the coronavirus hit two-thirds of the way through the 2019-20 job recruitment cycle. Companies were reassessing their employment plans from mid-March through this fall," said Scott Tieken, Rose-Hulman's director of career services and employer relations. "It was a challenging recruitment year, but our students persevered through hard work, persistence, and diligence, and they also benefited from the valuable relationships we have established with employers and the creativity of new programs and activities."

Academic majors with 100% placement rates through December 1 were chemical engineering, computer engineering, electrical engineering, civil engineering, software engineering, mathematics, optical engineering, physics, engineering physics, and biology.

All-time high average accepted starting salaries were achieved by computer science graduates, at $97,643. Other majors with top starting salary averages were computer engineering, at $84,289; software engineering, $83,063; chemical engineering, $79,423; mathematics, $77,943; and optical engineering, $70,800.

Top employers for the Class of 2020 were Collins Aerospace, Naval Surface Warfare Center, Honeywell, Epic Systems, Edgile, Microsoft, General Motors, Marathon Petroleum, and Milwaukee Tool.

"Employers value our students' strong skills and experience they have gained through valuable internships and co-ops. Our students' hard work in the classrooms, labs, and through actual work experience pays off for them with worthwhile careers," said Rose-Hulman President Robert A. Coons. "This Class of 2020 Placement Report reinforces the strong return on investment from a Rose-Hulman education."
Members of the class of 2020 were accepted to graduate schools to pursue degree programs such as medicine, dentistry, pharmaceutical chemistry, and medicinal chemistry. Some of these destinations are Brown University, Carnegie Mellon University, Columbia University, Johns Hopkins University, Penn State University, Tokyo University, and the University of Southern California.

Tieken pointed out that less than 20 graduates reported that they had their original job offers affected by the pandemic. Career services staff continue to work with those 2020 graduates who are still actively searching for starting positions. Rose-Hulman also is assisting alumni who have joined the job market after suffering coronavirus pandemic-related displacements.

"We have a number of 2020 graduates who are interviewing, have had plant trips, and are in negotiations for positions, so our placement numbers could get even better early in 2021," Tieken said.