Math Professors, Groundskeeper Honored for Teaching, Scholarship & Service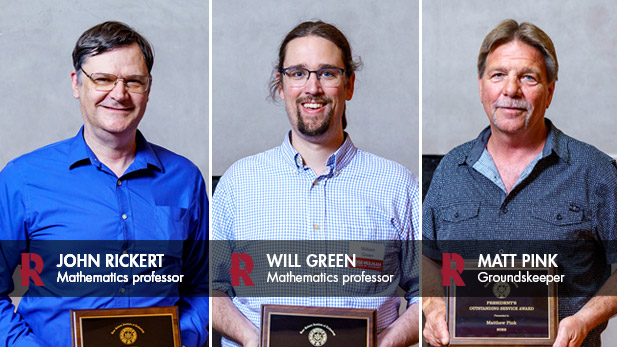 Rose-Hulman marked the end of the 2021-22 school year by recognizing two mathematics professors for excelling as educators and academic scholars, along with a groundskeeper who keeps the Institute attractive and safe for colleagues and campus visitors.
Mathematics Professor John Rickert, PhD, received the Dean's Outstanding Teacher Award while Associate Professor of Mathematics Will Green, PhD, earned the Board of Trustees' Outstanding Scholar Award. Meanwhile, Facilities Operations staff member Matt Pink earned the President's Outstanding Service Award.
Those three distinguished awards were announced May 26 during a special Commencement Awards event in Hatfield Hall for Rose-Hulman faculty and staff and were publicly acknowledged again as part of Rose-Hulman's 144th Commencement on May 28.
Each of the award winners consistently receive praise from students and other members of the campus community, and President Robert A. Coons noted that they contribute to making the esteemed undergraduate science, engineering, and mathematics college such a special place.
Rickert completed his 32nd year on the faculty this spring, teaching courses in calculus, differential equations, discrete mathematics, abstract algebra, and various number theory-related courses. He also has taught special courses on the mathematics of baseball and co-taught a Math & Music course with Associate Professor of Music David Chapman, PhD. 
Dean of Faculty Russ Warley, PhD, stated, "Dr. Rickert has high standards for his students and works with them to meet these expectations. He is a go-to in teaching the critical early calculus courses, where students get their start at Rose-Hulman, and especially enjoys working with incoming students who have no high school calculus experience."
His outstanding student evaluations include such comments as "(Dr. Rickert) will explain complex concepts from any angle, using visuals or real-world examples or even high school algebra, until we get that 'aha!' moment" and then there's "his tests may be killer, but he's a fantastic prof."
Green is an expert in the mathematical analysis of partial differential equations. He has published over 30 research articles, many with colleagues from the University of Illinois and the University of Cincinnati. Over 25 of these papers have appeared in print since Green joined the Rose-Hulman faculty in 2012. These papers have appeared in some of the leading journals and he's presented invited talks on a variety of scholarly topics to peers across the country.
Trustees Chair Niles Noblitt noted that Green is an excellent educator who routinely receives outstanding student evaluations in his courses and "is an outstanding example of what it means to engage in a career of scholarship and lifelong learning." 
Meanwhile, Pink takes great pride in helping make the Rose-Hulman campus an inviting place within the climatic challenges of every season. He has worked hard in the background for nearly 40 years mowing, pruning, picking up debris, or plowing snow. The institute has been recognized as a Tree Campus Higher Education for the past four years by the Arbor Day Foundation.
Coons stated Pink "keeps our campus beautiful and safe each day. Whether it is planting flowers in the spring to add to the aesthetics of the landscape or removing ice from steps and sidewalks so students can get to class safely … helping make Rose-Hulman the wonderful place it is."
The president noted that honoring a staff member shows that every member of the campus community is an educator who is dedicated to the Institute's mission of providing the world's best undergraduate STEM education in an atmosphere of individual attention and support.