Rose-Hulman Honored Nationally for Trees Commitment, Conservation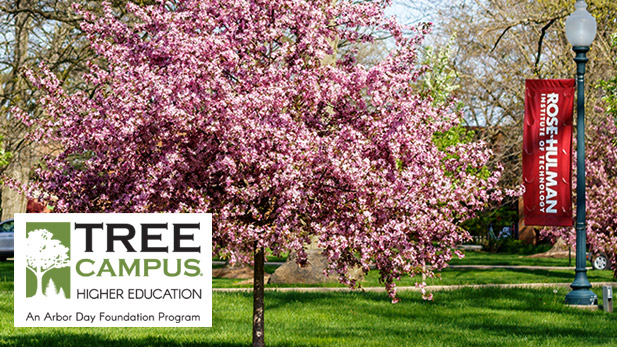 With nearly 250,000 trees spread throughout a 1,300-acre campus, it's little wonder why Rose-Hulman Institute of Technology continues to be recognized with the Tree Campus Higher Education designation by the Arbor Day Foundation.
This is the fourth consecutive year that the STEM college has been honored for its continued commitment to effective urban forest management and engaging faculty, staff members and students in conservation goals. Rose-Hulman also had to meet five Arbor Day Foundation standards: maintaining a tree advisory committee, having a campus tree care plan, dedicating annual expenditures for its campus tree program, conducting a student service-learning project, and observing Arbor Day.
Rose-Hulman celebrated Arbor Day (April 29) with a special campus tree planting ceremony. Recently, as part of this year's Earth Day (April 23), 60 Rose-Hulman students joined other volunteers to plant 120 trees within the Farrington's Grove Historic District as part of TREES Inc.'s Keep Terre Haute Beautiful activities.
Several new trees are strategically planted at Rose-Hulman annually, according to Justin Perry, senior manager of grounds services in the Office of Facilities Operations.
Rose-Hulman President Robert A. Coons added, "Trees create a scenic campus landscape that is one of our cherished assets. Our trees also highlight the importance we continue to place on sustainability, through campus programs and best building practices. We want our future scientists, engineers and mathematicians to use their skills to leave the world a much better place."
Rose-Hulman is among 393 campuses across the United States and 15 in Indiana to receive the Tree Campus USA recognition this year.
"Trees not only play a vital role in the environment but also in our daily lives," said Dan Lambe, chief executive of the Arbor Day Foundation. "Having trees on college and university campuses is a great way to show a commitment to students and faculty's overall wellbeing." 
More information about the program is available at treecampushighered.org.