Alumnus, Trustee David Hannum to Receive Rose-Hulman Honorary Degree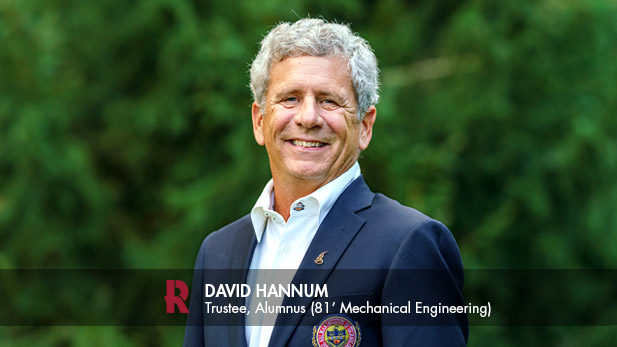 David L. Hannum has received numerous professional and community awards throughout more than 30 years of leading a successful family construction services business. However, the honorary engineering doctorate he'll receive during Rose-Hulman's 144th Commencement on May 28 will have special significance because of the reverence Hannum and his family have for the Institute.
"It brings tears to my eyes every time I think about receiving (the honorary degree). I consider it the greatest honor of my life," said Hannum, a 1981 mechanical engineering Rose-Hulman alumnus.
Hannum is one of 12 members of the Garmong/Hannum families to graduate from the Institute. That alumni legacy spans four generations, including two of David and his wife Kathy's five children: Rachael (Hannum) Lynch, a 2007 biomedical engineering alumna, and Eric Hannum, a 2012 mechanical engineering graduate, as well as David's father and grandfather. 
David Hannum has been a Rose-Hulman trustee for the past decade, helping the Institute maintain its prestige among the nation's top undergraduate colleges for science, engineering and mathematics. Rose-Hulman has been ranked No. 1 for the past 23 years in U.S. News & World Report's College Guide of specialty engineering colleges and universities. 
Also, David and Kathy donated $1 million to establish a new scholarship fund supporting future graduates of Vigo County high schools to attend Rose-Hulman. The first scholarship recipient will be a first-year student at the college for the 2022-23 school year.
Rose-Hulman President Robert A. Coons said, "David has provided considerable support to Rose-Hulman through his many contributions as a trustee, alumnus and parent. His dedication and wise counsel to the Board of Trustees are always concerned with the impact of our leadership decisions upon students and alumni. The upcoming honorary degree being presented to David is well-deserved recognition for his career accomplishments and service to the Institute."
Hannum is president and chief executive officer of Garmong Construction Services, the nearly 100-year-old Terre Haute contractor that has offices in Terre Haute, Indianapolis, and Evansville. Under Hannum's leadership, Garmong has transitioned from local Terre Haute projects to larger projects in counties and colleges throughout Indiana. The firm has grown from 10 employees in 1989 to more than 200, with many members being Rose-Hulman alumni. Hannum's most trusted and cherished business partner is Ralph Wagle, a 1983 civil engineering alumnus.
Hannum was recognized as one of the Indianapolis Business Journal's "Fast 25" in 2019 for the success of Garmong & Son and Indiana Business Magazine has listed Garmong among Indiana's fastest growing businesses during three of the past five years, including 2022. He also has been named Entrepreneur of the Year by Indiana University's Kelley School of Business.
"The work ethic I gained from Rose-Hulman has propelled me throughout my career. It has been like taking a four-hour calculus final every week. I learned at Rose if I wanted it, I could make it happen," said Hannum. "Second to my church, my relationship with Rose-Hulman has been the principal aspect of my identity. My family and our family's business have been greatly influenced and benefited from the Institute's unique and talented alumni, its dedicated and caring faculty and staff, and the many friendships made throughout generations."
In his community, Hannum has been president and board member of the Terre Haute Chamber of Commerce, board member of the Terre Haute Economic Development Corporation, President of WV Contractors Association, actively involved in church, and countless baseball and school activities. In 2014, he received the Sagamore of the Wabash award from Governor Mitch Daniels for his service as chairman of Indiana's Fire and Building Safety Commission from 2006-2013. He received a meritorious service award from the Indiana State Fire Marshall for renovating building codes in response to the Indiana State Fair Pavilion disaster.
Rose-Hulman will present bachelor's and master's degrees to this year's graduates at Commencement in the fieldhouse area of the Sports and Recreation Center, starting at 11 a.m. Addressing the Class of 2022 will be Karl Reid, PhD, chief inclusion officer at Northeastern University and director of the National Science Foundation-funded Engineering PLUS Alliance, a national effort to make engineering education more inclusive. He will join Hannum in receiving honorary degrees.