Rose Show Showcases Student Creativity, Ingenuity and Reflection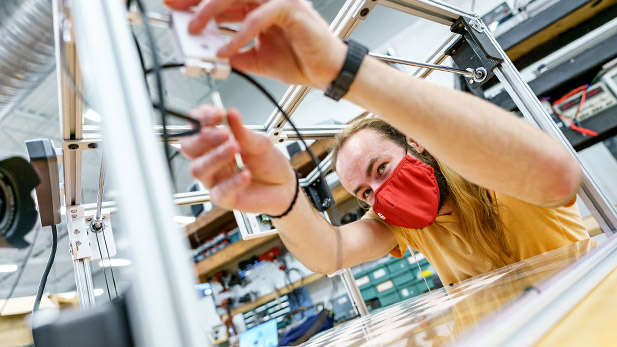 Creativity, ingenuity, and innovation were featured across student projects showcased in the institute's Rose Show, an annual campus event highlighting future technology and possible solutions for a variety of corporate and community clients.
This year's virtual event had 86 projects covering seven academic areas and four competition teams. They used artificial intelligence, robotics, 3D technology and modeling, software programming, and general problem-solving know-how. The problems were reviewed by corporate, alumni and community guest judges, and Rose-Hulman professors.
"Rose-Hulman is well known for the real-world experience we give our students, and few things exemplify that as well as the Rose Show," stated Rose-Hulman
President Robert A. Coons
in presenting opening remarks for this event.
Coons noted that this year's event had a bitter-sweet element as the institute introduced a new award named for former Associate Dean of Innovation William A. Kline, whose sudden death March 20 has
left a deep void
on campus. The award will be presented to the individual or team whose Rose Show project reflects innovation, value-creation, cooperation, ingenuity, and hard work – all values Kline exemplified.
"Bill was an enthusiastic advocate for the Rose Show and loved to celebrate student achievement," Coons said. "As supervisor of the Kremer and Branam Innovation Centers, Bill encouraged and mentored students, always urging them to find ways to add value with their projects."
The first recipient of this award was the biology and biomedical engineering team that created a type of adjustable orthotics brace for a person having limited functionality and lower leg stability through the lingering effects of Multiple Sclerosis. The device was developed by seniors Jacob Geesaman, Tanner Payne and Peyton Sakelaris.
The
Communications Lab
Award was presented to mechanical engineering seniors Ryan Krouse, Jakob Quasebarth and Adam Sturgeon for their strong communications skills and outstanding explanation of their compact caulking gun to the judging panel. The device was designed to fit into tight spaces while also being durable, inexpensive, and manually operated.
Earning honorable mention honors for their communications skills was sophomore computer science student Nathan Hurtig for his tool that helps educational researchers examine students' learning behaviors; engineering design sophomores Andi Fiani and Shelby Schipper for a portion of a Rube Goldberg machine that will help open Rose-Hulman's new academic building later this summer; and senior mathematics and data science major Scott Sun for his study that compares and contrasts different forms of mathematical estimators.
Best of Academic Area awards were presented to the following projects:
Biology and Biomedical Engineering
: Pediatric stationary teaching and physical training bike developed by Marily Arboleda, Katryna Dahlberg, Rebecca Hinz, and Jacquelin Ramirez-Marcelo; and the Intramedullary Nail Fragment Extractor, a device designed by Ethan Butler, Dylan Diorio and Cyrus Luczkow.
Computer Science and Software Engineering
: A geolocation tool created by Patrick Barr, Derek Grayless, Jacob Hendrich, and Andrew White that helps first responders find the location of missing persons following natural disasters; a clinician earnings statement generator, designed by Justin Eccles, David Gruninger, Aden Khan, and Ben Smith; and PANDeagle, a software analytic tool developed by Valerie Liu, Fisher Shen, Yiyuan Wang, and Jerry Zheng.
Engineering Design
: Chameleon, an app designed by Sophie Baer, Caleb Boutell, Sage Dooley, and Desirae Webster that allows customers to create custom designs for Ethiopian athletic shoe apparel; and a product that reduces day-to-day injury for low-vision persons, created by Marin Bishop, Jackson Kabrick and Dylan Settles.
Mathematics
: Scott Sun's project allowing for a comparison method and inverse probability weight methods, and Andrea Wynn's examination of spectral graph theory in two-dimensional materials.
Mechanical Engineering
: Repurposing plastic bottles, designed by Sarozjani Hunter, Shaine Mitchell, Margaret Sheerin, and Mary-Helen Shomba; an aquaponics lighting lift system, created by Sam Alvares, Jake Deniston, Irlanda Incer, Charlie Klein, and Chloe Rife; and a herb garden design for Rose-Hulman's Bon Appetit food service provider, developed by Michael Hall, Ashley Shepherd, Naveen Thomas, and Cassie Utley.
Also, Noah Becker, Colleen Fulton, Alex Herman, and Mitchell Wacker designed a traverse for the wind tunnels in Rose-Hulman's Kremer Innovation Center; a compact caulking gun, designed by Ryan Krouse, Jakob Quasebarth and Adam Sturgeon; and the Large Scale 2D Drawings project, developed by Kyle Dowers, Zach Godiner, Noah Millard, and Jess Thuer.
Multi-Disciplinary: Sewer infrastructure inspection system, created by Kevin Chou, Chris Comeau, Sam Ridgley, and Siwei Xu.
Physics and Optical Engineering
: Optical fiber interlock armor optical vision system, designed by Zhaowei Chen, Mikey Holtz and Samuel Vidourek.