Recent Graduates Helping Inventors Realize Patent Dreams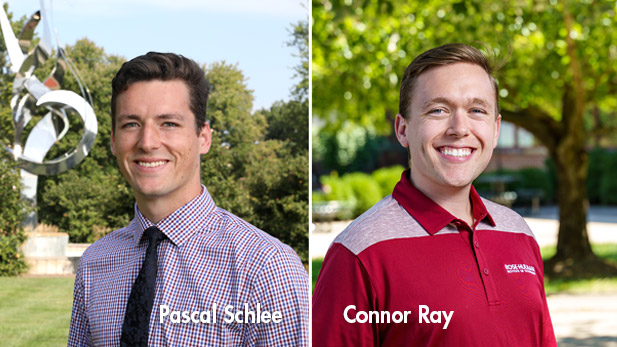 Pascal Schlee and Connor Ray may have distinctly different academic interests, but they share the same career ambitions as patent agents and eventually intellectual property lawyers after award-winning college experiences.
Knowledge of science, engineering and mathematics are prerequisites to becoming a licensed agent with the United States Patent and Trademark Office (USPTO). In this role, agents help clients prepare and file patent applications and ensure patent protection for inventions. Meanwhile, engineering skills are highly valued in the practice of patent law, which examines and represents legal issues regarding possible patent and trademark infringements.
Schlee, a
civil engineering
graduate, is hoping to become a third-generation patent attorney. He is spending this summer studying the 3,000-page USPTO patent exam manual before starting law school this fall at the Loyola Law School of Loyola Marymount University in Los Angeles.
Ray is expanding his interests in patent review as an employee with the distinguished Faegre Drinker Biddle & Reath law office in Denver, after two summer internships in the firm's Indianapolis office and work from campus/home during the school year. The
chemical engineering
and
chemistry
alumnus hopes to begin law school in the fall of 2021, possibly at Indiana University's Mauer School of Law, which has a longstanding partnership with Rose-Hulman.
"Rose-Hulman provides an excellent foundation in numerous different engineering disciplines, which transfers well to patent law," said Schlee, whose father is a patent attorney and owner of Schlee IP International in Manhattan Beach, California. "Patent law allows you to learn about cutting-edge innovation across a multitude of interesting technical fields. I find it fascinating how inventors find such ingenious ways to apply engineering and science principles to solve problems."
Schlee's career interest in patent law came into focus his sophomore year after studying patents during summer internships. He began studying for the law school admissions test during his junior year on campus. Future plans include becoming a patent attorney in California and using his German citizenship to also work as an international patent practitioner.
"I really enjoy exploring a wide range of topics and as a patent attorney you do just that," he said. "You get the opportunity to work on numerous different cases during the same day, whereas in civil engineering you usually spend considerable time working on different components of the same project over months or even years."
Meanwhile, Ray became interested in becoming a patent agent and lawyer after finding out that most professionals in the field have backgrounds in engineering. He plans to take the USPTO patent agent exam this summer so that he can expand his responsibilities within the Faegre Drinker Biddle & Reath law firm.
"You can't write a patent application if you don't understand the technology behind the invention," he said. "Having technical experience allows for much easier conversations with inventors since they can speak more candidly and at a higher level. I really enjoy the puzzle-like problem-solving aspects of the job, as well as getting to learn a ton about a bunch of new technologies. I also enjoy working with people, whether it was clients or others in the firm. It has been a lot more enjoyable than I thought it would be."
Both agree that the strong technical backgrounds provided through Rose-Hulman's rigorous academic programs have prepared them to achieve their career goals.
"I didn't realize how well trained Rose-Hulman made me until I started working at Faegre," said Ray, a native of Lockport, Illinois. "I would finish work in a matter of days when my advisor anticipated it would take weeks. I didn't feel like I was doing anything differently than I did at school in terms of effort, but I felt like I was starting at a higher point than most other students from other universities. I also got a lot out of my non-academic career at Rose, in particular, effective communications through being a member of the residence life staff. Patents are all about communicating an idea through words and pictures, and I feel as if Rose has prepared me to do that outside of the classroom."
An Intellectual Property for Engineers and Scientists
engineering management
course, taught by provost and vice president for academic affairs
Rick Stamper
, had Schlee drafting patent claim applications and defending patentable designs
in front of experienced patent lawyers
, many of them being Rose-Hulman alumni.
"Rose-Hulman provides students the tools to confidently approach problems and reason their way through them. I have found this particularly useful when working on a patent in an unfamiliar technical field," Schlee said. "The civil engineering department does a great job at emphasizing the importance of interdisciplinary competence in engineering. I recall being able to apply concepts that I learned in an element of electrical engineering course to a case I worked on the following summer."
Ray
earned Rose-Hulman's John T. Royse Award
as the institute's most outstanding graduate, in the opinion of faculty and staff, based upon academic achievement, student leadership, participation in co-curricular activities, and general campus citizenship. Besides being a resident assistant for two years, he gave prospective students campus tours as a member of the Office of Admissions' A-team, was president of the Chem-E-Car student competition team, and initiated several community service activities.
Schlee was also active on campus,
earning the Senior Athlete of the Year Award
from the Varsity R Club after a celebrated career as a goalkeeper for Rose-Hulman's varsity soccer team. He led all NCAA Division III goalkeepers with 12 shutouts during the 2019 season, earned first-team Heartland Collegiate Athletic Conference honors and was a third-team United Soccer Coaches all-region selection. Schlee completed his collegiate career with a 25-9-4 record and allowed just 28 goals.