Taylor Named Head of Humanities, Social Sciences, and the Arts Department
Friday, November 03, 2023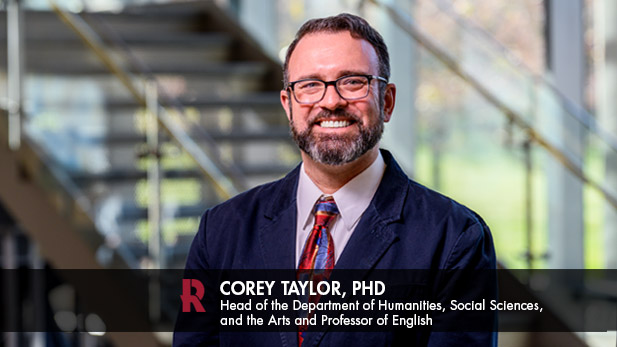 Literary scholar Corey Taylor, PhD, has been named head of the Humanities, Social Sciences, and the Arts department, starting on November 27, 2023. The appointment was announced by Provost and Vice President for Academic Affairs Rick Stamper, PhD. 
Taylor replaces Richard House, PhD, who is now Associate Dean for Professional Development for the college.
"I'm honored to have been selected as department head and am excited to begin working with my colleagues in this new role," Taylor said. "I have always enjoyed being part of a dynamic, multidisciplinary department—there are 14 disciplines represented among HSSA faculty. I look forward to continuing to foster an environment in which everyone in the department can thrive as a teacher, a scholar, and an institute citizen."
A member of the Rose-Hulman faculty since 2007 and associate department head since 2020, Taylor has taught a variety of English courses, especially in American literature and technical and professional communication. His areas of teaching and research expertise include 20th-century American literature, African American literature, literary adaptations of blues and jazz, and modernism. He also has co-taught the product design studio course for the Engineering Design program.   
Taylor has authored or co-authored several articles, book chapters, conference papers, and presentations on subjects including literature, pedagogy, and sustainability. His latest article, "Zora Neale Hurston's Barracoon: The Story of the Last 'Black Cargo' as Multi-Voiced Narrative," was recently accepted for publication in the South Atlantic Review, the peer-reviewed journal of the South Atlantic Modern Language Association. He also is a former chair of the American Literature Area of the Popular Culture Association, a national scholarly organization. 
Taylor has chaired several Rose-Hulman faculty committees, including those pertaining to faculty affairs, quality of education, and honors and awards. He also has supervised Ink, the campus' student literary and arts magazine, and chaired the HSSA department's annual student essay contest.
Taylor earned doctorate and master's degrees in English from the University of Delaware after receiving his bachelor's degree in English, with distinguished academic honors, at Ursinus College in Pennsylvania.