Interactive Jacket Provides Good Vibes for Engineering Design Students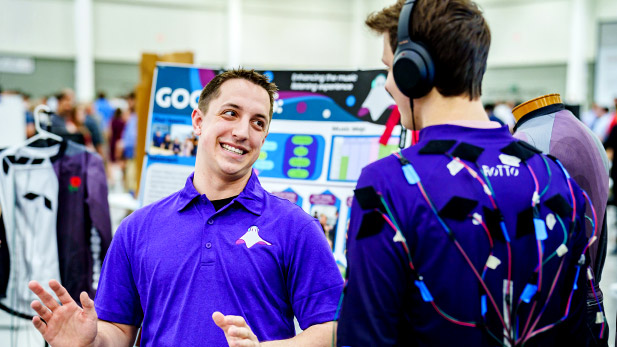 The Beach Boys aren't the only ones providing Good Vibrations, as a student team created a jacket during the 2022-23 school year in an entrepreneurial-inspired project that turned music listening into a full-body experience.
The project, named Good Vibes, was inspired by 2023 Engineering Design graduates Nathan Atkinson, Sophie Baer, Jackson Costa, and Sage Dooley, along with Computer Engineering senior Josiah McGee. Haptic devices and other technology placed throughout a lightweight and fashionable jacket sync with the rhythms of songs to allow users to "feel" the music being played at a concert, on the radio, or by an audio player.  
This technology could also enable music to be more assessable to those with auditory impairments.
"It's pushing the envelope of the music-listening experience and was a whole lot of fun to produce, with lots of hard work and trial-and-error design," said Atkinson, who developed the idea for the project last summer. "The idea came, and I started writing down rough concept ideas. Then, during the school year, I got with other students to make this project possible. Fortunately, the Engineering Design program has lots of creative students, like me, who like making things like this jacket possible."

Other projects developed this year by program students included a portable and compact water filtration system that could bring clean water to remote locations and a wearable necklace and wristband that allow users to monitor their biometrics through adaptive LED lighting and Bluetooth technology.
The Engineering Design program has been living up to its name since its inception in 2018, providing interesting design challenges through six different design studios. Real-world design experiences come from numerous internships, extended co-ops and study abroad experiences.
Along their academic journeys, Engineering Design students also learn the core principles of electrical, mechanical, biomedical, and software engineering that make them well prepared for success in today's competitive global economy. 
After having co-ops with Parsons Corporation and IMMI and an internship with Rose-Hulman Ventures, Dooley is now a production engineer, specializing in cybersecurity, with ICR Inc.
"In a program that's full of really creative people, it's hard not to come away from the Engineering Design environment with creative ways to solve problems," she stated.
Four co-ops and internships prepared Costa to become a design engineer with Endress+Hauser, while Baer had two co-ops in preparation for a postgraduate job as a systems engineer with Raytheon Technologies.
"My extensive design portfolio, through several projects, made me so unique," Baer remarked. "I had numerous examples to show prospective employers about my skills and abilities. It made me so marketable."  
Learn more about the Engineering Design program at www.rose-hulman.edu/engineeringdesign .