Faculty, Staff Members Honored for Teaching, Scholarship & Service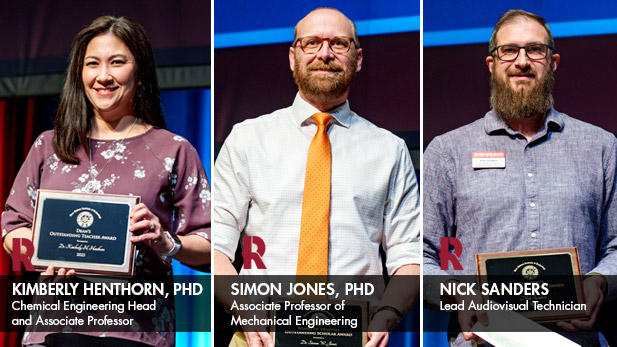 Rose-Hulman's hallmarks of personal attention, dedication to student success and quality service were recognized in faculty and staff awards presented as part of this year's pre-Commencement Awards event on May 25 in Hatfield Hall. 
Chemical Engineering Department Head and Associate Professor Kimberly Henthorn, PhD, received the Dean's Outstanding Teacher Award while Associate Professor of Mechanical Engineering Simon Jones, PhD, earned the Board of Trustees' Outstanding Scholar Award. Meanwhile, lead audiovisual technician Nick Sanders earned the President's Outstanding Service Award.
The trio were publicly acknowledged again as part of Rose-Hulman's 145th Commencement on May 27.
Each of this year's special award winners consistently receive accommodations from students and other campus community members, and President Robert A. Coons noted that they contribute to the college's mission of providing the world's best undergraduate science, engineering, and mathematics education in an atmosphere of individual attention and support. 
Henthorn, a 1999 chemical engineering alumnus, earns high praise in student evaluations for a variety of courses, in particular a particle technology class that first exposes students to complex problem solving. Dean of Faculty Russ Warley, PhD, noted that Henthorn excels in teaching the course and makes sure students have the necessary skills and mindset to meet future challenges during their careers.
Warley passed along the words of praise for Henthorn from one of her former students that stated, "(Dr. Henthorn) is genuinely an amazing professor who values the success and health of her students. She is always accessible and answers each and every question … I admire her passion for science, her time management and her willingness to help others, as she excels in ALL of those traits."
Henthorn, a Rose-Hulman faculty member since 2010, also engages with students through undergraduate research projects in the New Academic Building's Food Science Laboratory and as an advisor of the Delta Delta Delta sorority. She continues to bring best practices and current techniques from industry into her teaching.
Jones is an expert in vibrations and computational mechanics, with research interests in simulation of traffic-induced ground vibrations, finite element modeling of composites, and Wavelet-Galerkin methods in structural dynamics. He has published over 28 research articles and conference proceedings, shares his expertise by authoring technical resources for engineering textbooks, and helps review books and manuscripts for colleagues. 
Board of Trustees Chair Niles Noblitt stated that Jones' scholarly work is wide-ranging as he participates in traditional disciplinary research, with several projects culminating in work published by students. Jones also
engages in pedagogical research and has completely redeveloped an upper-level course to use a new pedagogical approach known as the "moving frames approach."
The Outstanding Scholar Award review panel stated, "Dr. Jones' record is long in duration, consistent over time, and complete in scope of external products." It was noted that Jones' scholarly accomplishments were achieved as he completed high teaching and professional service loads.
Meanwhile, Sanders works diligently to provide audiovisual support for campus meetings and events throughout each school year. This includes supporting online, hybrid and in-person meetings/events, and providing recording and streaming services for necessary events.
President Robert A. Coons acknowledged that Sanders "always represents Rose-Hulman in a positive, professional light, both internally and externally. He is truly a great asset to our community."