Sports and Recreation Center Celebrating 25 Years of Serving Campus & Community
Wednesday, October 12, 2022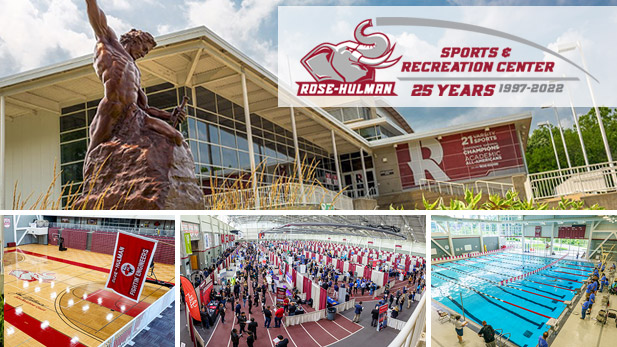 Rose-Hulman's Sports and Recreation Center is celebrating its 25th anniversary this fall as the home for campus fitness and wellness, intercollegiate athletics, club sports and intramurals, along with a variety of campus activities. It also has been a shining example in higher education where athletics, student activities and academics can coexist and flourish, just as originally designed. 
The building's fieldhouse, athletic arena and natatorium also have hosted Indianapolis Colts training camps, NCAA Division III national championships, and such special community events as Indiana Special Olympics' swimming meet, FIRST Robotics Indiana and MATHCOUNTS regional and state competitions, along with Dancing with the Terre Haute Stars, 100 Men Who Cook and Terre Haute Triathlon.   
In fact, the Sports and Recreation Center (SRC) annually hosts more than 200 events and over 100,000 people while being open nearly 325 days each year.
"The Sports and Recreation Center continues to serve as an energetic and vibrant space for our campus, the community and visitors to the area," said Rose-Hulman President Robert A. Coons. "It was constructed with the future in mind and continues the legacy of Dr. Samuel Hulbert, our former longtime president, who helped facilitate its development as a part of our 'Vision to be the Best' campaign. In the past year alone, we have hosted dozens of visiting college teams, hundreds of students and families from around the state in a robotics competition, and had a popular comedian perform for our campus community."
The Office of Recreational Sports and Athletic Facilities has recognized the 25-year anniversary by adding signage near the building's front entrance, with additional signage throughout the center. A special reception for alumni and others inside the Varsity R Club tent was held during the Homecoming football game on October 9.
The Princeton Review recently ranked Rose-Hulman at No. 9 in the nation for being a college where "Everyone Plays Intramural Sports" and among the top 25 for Best Athletic Facilities, based upon annual student surveys.
During the 2021-22 school year, the Sports and Recreation Center hosted 775 intramural games involving more than 1,000 participants from 371 student teams and individual competitors. This would include quarter-long leagues and one-day tournaments. The institute offers traditional sports-based intramural activities as well as esports. 
There also are facilities for a variety of campus wellness and fitness events, a rock climbing wall, a weight and cardio equipment rooms, a racquetball court, baseball and softball batting cages, and youth swimming lessons. 
New for this year has been an indoor golf practice area.
The biggest annual non-athletic/intramural campus activities include Commencement, New Student Welcome Fest, three career fairs, The Rose Show, Bikes For Tykes' Bicycle Assembly Day, and concerts.
And, of course, the SRC hosts men's and women's intercollegiate sporting events, has locker room for varsity teams that compete at the adjacent Cook Stadium's Phil Brown Football Field and William Welch Track and Field Complex, Joy Hulbert Tennis Center, and soccer field. There's also Department of Athletics' offices and athletic training facilities.
"The Sports and Recreation Center has served the campus and community well throughout the past 25 years and we're expecting even more exciting times ahead," said Recreational Sports and Facilities Director Seth Woodason.