Overtime Thriller Determines FIRST Indiana Robotics State Champions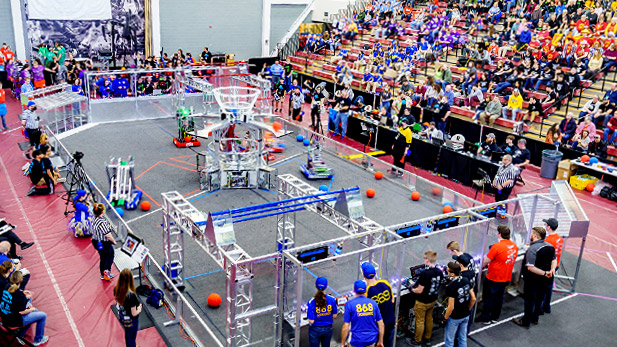 This year's FIRST Robotics Indiana State Championships at Rose-Hulman was an event that the high school contestants and spectators won't soon forget after a thrilling extra overtime session determined the winning alliance of three high school robotics teams. 
The competition brought students, teachers, mentors, and parents/friends from 32 high school teams from throughout Indiana for qualifying matches April 15 and the morning of April 16. Then in the afternoon, the top 24 scoring teams formed three-team alliances to square off for eight quarterfinal matches to determine four semifinal groups. Eventually, the exciting showdown between the two finalists happened as they were encouraged by a standing-room-only crowd within the Sports and Recreation Center's Hulbert Arena. A statewide television audience also was able to witness the exciting action in the playing arena, which was the length of a basketball court. 
WATCH THE HIGHLIGHT VIDEO FROM THE FIRST ROBOTICS STATE CHAMPIONSHIP!
After splitting two matches, there was a tie in a tiebreaker match. This required a first-ever overtime match, with the winner qualifying to represent Indiana at the FIRST World Championships in Houston.
In the end, the third-seeded alliance of GalacTech from Columbus North-Columbus East high schools, The Digital Goats of the Walker Career Center from Indianapolis' Warren Township school district and RoboBlasters of Indianapolis' University High School won the extra session 99-71. Finishing second was the top-seeded alliance of Purple Precision from Brownsburg High School, SuPURDUEper Robotics from Indianapolis' Purdue Polytechnic High School, Munster Horsepower from Munster High School, and Argyll Attack from Madison-Grant High School. 
"What a great way to end an exciting state championship. Everyone was on edge to see which team was going to come out on top after completing several competitive rounds," said Rose-Hulman robotics educator and event host organizer Carlotta Berry, PhD, the Lawrence J. Giacoletto endowed professor of electrical and computer engineering. "This showcased how exciting robotics and STEM (science, technology, engineering and mathematics) can be for those actively involved in the building and competing of the robots and the fans who came to watch the event."
More than 2,000 people filled Rose-Hulman's sports arena on both days to view the exciting qualification and playoff rounds of competition. 
The FIRST Robotics Indiana competition involving critical thinking, creativity, collaboration, and problem solving has been called the "Ultimate Sport for the Mind."
This year's game, RAPID REACT, presented by The Boeing Company, had two competing alliances processing cargo for transportation. Each alliance is assigned a cargo color to process by retrieving their assigned red or blue balls and delivering them into the center of the playing field. Human players assist the cargo retrieval and scoring efforts from within their terminals. In the final moments of each match, alliance robots race to engage with their hangar to prepare the cargo for transport.
Indiana's other world competition-qualifying teams, determined by performances in district and state competitions, are the Red Alert team from Center Grove High School (Regional Chairman's Award winner); Cryonics, a family/community-based team (Regional Engineering Inspiration Award winner); Cyber Blue from Perry Meridian High School (Regional Engineering Inspiration Award); and Argyll Attack from Madison-Grant High School (Regional Championship Rookie All Star Award).
Several Rose-Hulman alumni, students, faculty, and staff members assisted the competition as event announcers, judges, host committee members, technical and facilities staff, and general volunteers.
Alumni Andy Milluzzi, Taylor Frey, Kris Verdeyen, Jim Fox, Garrett Wight, Marie Hanson, Kaitlyn Gulley, and Jonathan Boutell returned to campus after being involved with FIRST Robotics as students, as mentors for Vigo County School Corporation's Team 5188, or advisors for teams in their current communities. 
"FIRST Robotics brings together elements of robotics, electrical engineering and mechanical engineering in a cordially, fun-filled way. It is a great way for students to learn about the multidisciplinary aspects that go into project creation," said Milluzzi, a 2012 computer engineering and software engineering alumnus who now is a senior ride control systems engineer with Walt Disney Imagineering. He is a Senior FIRST Mentor. 
Frey, a 2020 computer engineering alumna, adds that FIRST duplicates many of the engineering and project management aspects of her job as a software development engineer with Kratos in Colorado Springs, Colorado. "The real-world applications of building a robot from scratch (since early January) produce elements of problem solving and teamwork that enhance the educational process," she said. Frey has helped form and mentor new high school teams in the Colorado Springs area. "Once a student gets involved, they get excited. It's not work, it's fun. They're hooked into STEM and want to learn and do more."
Longtime friends, professional colleagues and FIRST Robotics supporters Fox and Verdeyen served as the state championship event's announcers. The Houston area residents kept spectators informed about the strategies being used by many of the teams and helped built the crowd's enthusiasm throughout the final overtime match. 
"Many of aspects of FIRST Robotics replicate systems that we use every day at NASA," said Fox, a 1995 electrical engineering graduate who is a communications tester on projects at the Johnson Space Center.
Verdeyen, a 2000 electrical engineering alumnus, is a senior electrical engineering with Nauticus Robotics, developing robots for deep underwater projects, after being a project manager for humanoid robots and rovers built for space exploration missions. 
"I love robotics and it is so neat to see these students loving it as well. The fun and excitement (at FIRST Robotics events) always get me motivated to get back to work," he said.
Recent graduates Garrett Wight, Marie Hanson, Kaitlyn Gulley, and Jonathan Boutell assisted Vigo County high school students in past FIRST Robotics projects.
Sponsors supporting this year's state championships and its teams and students included FIRST Robotics Indiana, Rose-Hulman, Terre Haute Convention and Visitors Bureau, Applied Research Solution, Bastian Solutions, Cook Medical, Grote Industries, Northwestern University's Master of Science in Law, Novelis, Nucor Vulcraft Indiana, Wayne Patrick, and Trine University.