Rose-Hulman's Coalition for College Membership Opens More Student Accessibility
Thursday, October 20, 2022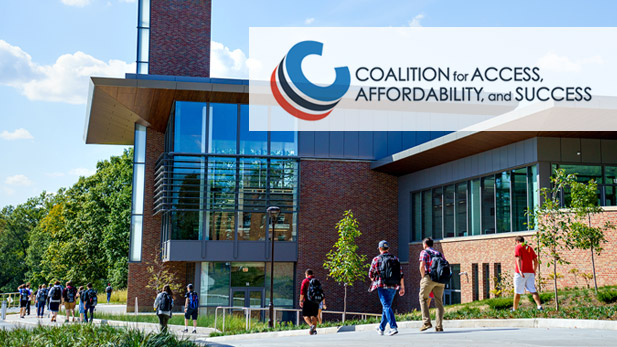 Rose-Hulman has added another avenue in its search for prospective students with character traits that lead to success in science, technology, engineering, and mathematics (STEM) careers. This comes at a time in which the top-ranked STEM college, with a strong value and return on investment, has experienced continued growth in applications and enrollment.
Rose-Hulman is among a select group of national private and public colleges joining the Coalition for College initiative whose goal is to provide college access for low-income, under-resourced and first-generation students. Member colleges meet rigorous eligibility standards for access, affordability, and student success, and have a commitment for supporting students through the college preparation and application processes.
"Membership in this coalition showcases that our admissions process is open to all students, based upon their academic ability to succeed and interest in pursuing a STEM career," said Tom Bear, Rose-Hulman's vice president for enrollment management. "This affirms our commitment to college access."
Bear adds that Coalition for College aligns top academic-achieving students with Rose-Hulman's core mission of providing students with the world's best undergraduate STEM education in an environment of individual attention and support in a caring campus community with dedicated faculty and staff members.
"Rose-Hulman provides a top-notch undergraduate education. Our students and graduates are making a difference in STEM fields globally. We want to provide greater access to student success and the Coalition for College is another key ingredient to the college admissions process," said Bear. "We're looking for students with the character traits, personal initiative and strong academic backgrounds to be successful as students and, eventually, alumni." 
For 24 consecutive years, Rose-Hulman has been ranked in U.S. News & World Report's Best Colleges Guide as the nation's No. 1 engineering college that's focused on bachelor's- and master's-level education. The institute also earned top marks nationally for internships (No. 1), science lab facilities (No. 1), career services (No. 3), student support and counseling services (No. 3), residence halls (No. 5), and career placement (No. 6) in The Princeton Review's latest student surveys.
Rose-Hulman enrolled its second consecutive strong class of first-year students for the 2022-23 academic year and now has nearly 2,200 students. The institute is experiencing a 15% increase in admissions applications for the 2023-24 school year, and a recent Fall Career Fair brought a record 283 companies from throughout the country, with more than 70 companies recruiting on campus for the first time.
Coalition for College Chief Executive Officer Stacey Kostell stated in a news release, "We're thrilled to count Rose-Hulman as partners in this work and look forward to collaborating on our shared goals to better serve limited-income and under-represented students and help more students achieve their higher education goals."
Rose-Hulman is currently accepting applications from prospective first-year students for the 2023-24 school year. The deadline for early action and scholarship review is November 1, 2022, with regular admission applications being accepted through February 1, 2023. Apply online at www.rose-hulman.edu/apply.