Robust Fall Recruiting Brings Opportunities for Students, Companies
Thursday, October 06, 2022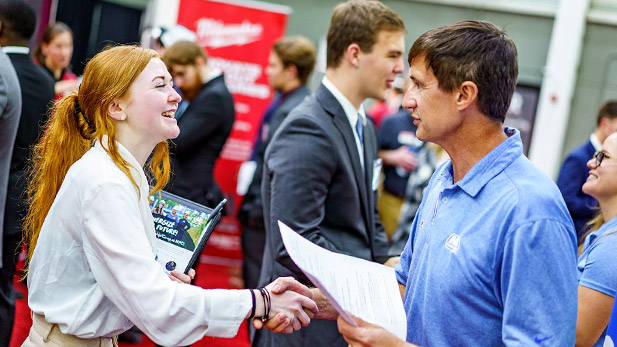 Decisions, decisions. 
Rose-Hulman students are contemplating an abundance of full time, internship and co-op work opportunities after meeting and conducting interviews during a robust fall recruiting season that's brought a record number of companies in a variety of industries from across the country.
As Scott Tieken, director of career services and employer relations, says "STEM is booming."
The Sports and Recreation Center's fieldhouse was filled from wall to wall with recruiters from 283 companies for this year's Fall Career Fair and several firms stayed the following day for full interview schedules with top candidates for full time, internship and co-op positions.
Some interviews resulted in on-the-spot job offers while other offers should be forthcoming later this fall once companies make hiring decisions for 2023.
Senior mechanical engineering and international studies major Kirk Preston already has a job offer in the cybersecurity area after a summer internship with Deloitte. However, he still conducted interviews with Siemens Healthineers, Edgile, Eli Lilly and Company, Milwaukee Tool, and Wolfspeed after meeting company representatives on campus this fall.
These companies were interested after seeing Preston's resume that's filled with internships and co-ops at Amazon, AT&T, Marathon Petroleum, and Duke Energy, along his strong academic background from an education at the nation's top-ranked undergraduate engineering college.
"I've set myself up well with a variety of work and academic experiences. Now, I'm ready to take advantage of them with a rewarding career, possibly with the opportunity for travel and having a company pay for graduate school. Everything is on the table," said the Crowley, Texas, native.   
Junior mechanical engineering major Sam Betts had internship interviews with Honeywell, Northrop Grumman Corporation and Massachusetts Institute of Technology's Lincoln Laboratories following the Fall Career Fair. Recruiters were interested in learning more about her leadership experiences as president of the new Rose Rocketry Club and involvement in other campus organizations.
"I'm looking for an internship where I can apply what I've learned here, along with other experiences, and see where that takes me," said Betts, from Hudson, Ohio, who has an interest in an aerospace career. "I'm ready to explore all the possibilities that are out there." 
Its academic rigor in preparing innovative and entrepreneurial-minded students to make an immediate impact in industry has created strong demand for companies to hire Rose-Hulman students to fill openings in science, technology, engineering, and mathematics (STEM).
More than 70 companies attending the Fall Career Fair were recruiting on campus for the first time.
"Rose-Hulman is the MIT of the Midwest. That's why we're here – to get the best," says Marathon Petroleum Talent Acquisition Specialist Brandon Moorehead in between interviews with students from a variety of academic majors for internships and co-ops. "It's a competitive marketplace. There's going to be some tough decisions because we're seeing some strong students with great credentials. We know that everyone (at Rose-Hulman) is going to excel in academics. They also have the leadership, team-working and problem-solving skills to be successful with us."
Students with undergraduate research experiences caught the attention of MIT Lincoln Laboratory's technical staff member Luke Skelly, who was interviewing a long list of qualified candidates for a variety of positions.
"There's good talent here. Rose-Hulman students have a passion for problem solving and learning new things," he said. "We're an innovation company that's solving some very difficult problems. We're pushing the envelope in technology and are looking for students who enjoy that environment. We've had good success finding students who have had success with us, and we're hoping to attract even more this year," he said.
Recruiting activities on campus have exceeded pre-pandemic levels, according to Tieken. There's also more than 8,300 jobs, internships and co-ops posted by more than 7,500 companies on the Handshake online placement service, exclusive to Rose-Hulman students. And more are being added daily.
"Recruiting is definitely robust this year," said Tieken. "Activities started early and haven't let up yet."