Reizman, Kershaw and Chiu Named Endowed Chairs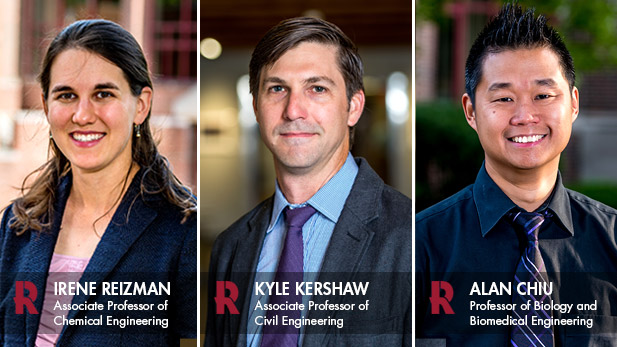 Innovative Rose-Hulman professors Irene Reizman, Kyle Kershaw and Alan Chiu have been named endowed chairs to support their scholarly and teaching efforts in their academic areas. The appointments have been made by President Robert A. Coons, with their positions scheduled to begin September 1. 
Reizman, PhD, will be the Alfred R. Schmidt Chair for Excellence in Teaching while Kershaw, PhD, will be the Roland E. Hutchins Chair in Civil Engineering and Chiu, PhD, is being reappointed the Samuel F. Hulbert Chair in Biomedical Engineering. 
Endowed faculty chairs honor members of the Rose-Hulman faculty for their exemplary accomplishments outside of Rose-Hulman and further supports their professional activity in both national and international circles of scholarship, according to Ella Ingram, associate dean for professional development who coordinates the endowed chair program.
Professors receive annual stipends to continue to excel in their specialized areas, lead conversations with other educators in their fields and create opportunities for students and peers.
Reizman, associate professor of chemical engineering, is planning to develop a framework for integrating undergraduate research into the early college experience, especially first- and second-year Rose-Hulman students. Her efforts will focus on setting up students for success in their research experience, provide supporting faculty mentors, and create an environment of excitement and recognition for students' research activities. This will build upon Reizman's work within a collaborative grant from the Kern Family Foundation to support the integration of entrepreneurial mindset principles into undergraduate research. 
As associate professor of civil engineering, Kershaw is planning to incorporate concepts of resilient infrastructure in areas of buildings, transportation, water, and energy, and designing for climate change into undergraduate courses and research. Resiliency is one of the focus areas of recently passed federal infrastructure legislation. He will be building upon an international collaboration with colleagues at University of Bath in the United Kingdom and his geotechnical consulting experience with industry partners.
Chiu, professor of biology and biomedical engineering, will build upon activities during his past three years as the Hulbert endowed chair. He will work with undergraduate students to improve existing control of motor prosthetic applications for patients with severe motor impairments caused by a stroke or other injuries. The goal will be to develop new control strategies to improve the effectiveness of recovery, and to mitigate the current limitations in prosthetic control. Students will be involved in various steps of research, as well as developing outreach activities in elementary and middle schools that encourage and support youth's interests in science, technology, engineering, and mathematics.
Reizman will be the second Alfred R. Schmidt Faculty Chair, following the work during the past three years by Terrence Casey, professor of political science. Kershaw will be succeeding John Aidoo, professor of civil engineering, as Roland E. Hutchins Faculty Chair.