First Cohort of Engineering Design Major Students Walk the Commencement Stage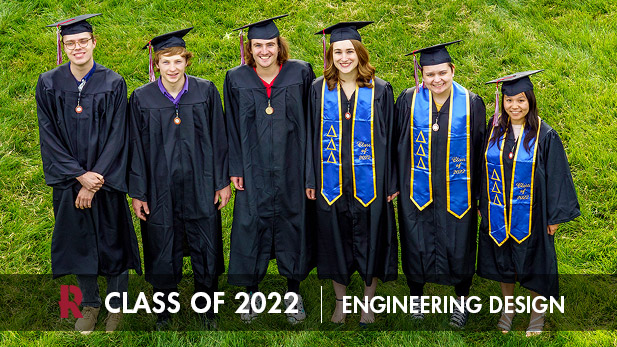 Rose-Hulman's highly innovative Engineering Design major prepares to graduate its first cohort of ten students. The new major, which started in fall 2018, is a multi-disciplinary and hands-on program of study that focuses on the design process. Students tackle design challenges for real-world clients starting in their first quarter on campus and complete six different design studios by the end of their junior year.
Engineering Design students start the product design process during their first quarter on campus. For this cohort of students, that included designing a toy for children with disabilities. During their spring quarter, students combined coding and censors into their design. Engineering Design majors participate in co-ops during their junior year and then create a multidisciplinary capstone project as seniors. Students choose a specialization in entrepreneurship, electrical or computer engineering, or manufacturing. 
One of the design projects was the creation of a bedtime buddy for kids with cognitive disabilities. Students built a penguin stuffed animal with voice recordings to help kids complete their bedtime routine process. When the child completed a task, such as brushing their teeth, they tapped the penguin on the head and the buddy gave the next set of instructions. The bedtime buddy was presented at a Rose design show and was so impressive that a senior design team picked up the toy and continued developing it.
During their last studio, students were charged with creating an app for use in a different culture. The cohort designed a companion app for the Animal Crossing video game popular in Japan. As part of the project, they worked with students at the Kanazawa Institute of Technology in Japan to test the app and receive feedback.
While there are colleges that have similar master's programs or second major options, Rose-Hulman is one of the only schools to offer this innovative and hands-on major to undergraduate students. 
"What has impressed me about the students is they really want to make a difference and design things to help people," says Professor of Mechanical Engineering Patricia Brackin, Ph.D., who is the program director for the Engineering Design major. 
Artemis Ely is part of the first graduating Engineering Design cohort. Ely, who considers himself a "jack of all trades," was attracted to the major for its multi-disciplinary approach and it allowed him to grow his various interests in ways that can be useful to society. After graduating, Ely will work as an associate consultant at Resultant, a software consulting firm in Indianapolis. 
"The Engineering Design program really prepared me for this job because it helped me develop my technical and programming skills, but also helped me develop my people skills," says Eli. "When I talked with Resultant about my ability to translate between the customer and engineer and get them to speak the same language, they lit up. That's exactly what landed me that job and that's what the major did for me."
Liz Stutz was attracted to the Engineering Design major because of its emphasis on prototyping and building products, while her concentration in manufacturing allowed her to grow her skills in statistical quality and Six Sigma analysis. Upon graduation, Stutz will move to Sturgeon Bay, WI and work for Therma-Tron-X, a company that builds custom automated finishing equipment for manufacturing lines.
Kaia Johnson was attracted to the hands-on and creative aspect of the major. She enjoyed being part of the first cohort and helping to shape the program going forward. After graduating, she will work with Milwaukee Tool as a quality engineer.
"You really learn to think differently as an Engineering Design student," says Johnson. "If people feel like they don't fit into one category or want to do more hands-on design work, this program is the way to go."