Civil Engineering Grad Student Realizes Sports Stadium Dream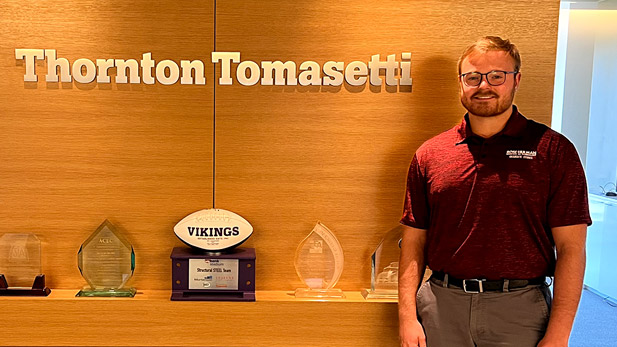 When Hunter Crumly spent time watching his beloved Minnesota Vikings professional football team play as a child, he dreamed of someday helping design and construct sports stadiums for other teams.
That dream has become a reality through skills learned as an undergraduate and graduate student in the Department of Civil and Environmental Engineering.
After earning his master's degree later this winter, Crumly has recent started as a structural engineer with Thornton Tomasetti, a global engineering firm that has constructed or help modify such sports stadiums as Yankee Stadium (New York City), Wrigley Field (Chicago), Hard Rock Stadium (Miami), Climate Pledge Stadium (Seattle), and Stadio Della Roma (Rome, Italy). The company also has completed innovative high-rise structures (14 of the world's 100 tallest buildings), libraries, community centers, and residential complexes in more than 150 countries across the world. 
"Coming out of high school (in Chatham, Illinois), I had the idea that I wanted to be an engineer who designs stadiums," he said. "As I was progressing through Rose-Hulman classes and seeing the opportunities that were realistically out there, I started to generalize my search to any company that did large-scale structural projects, because a company that only designs stadiums is very rare."
He continued, "After I realized that Thornton Tomasetti's Kansas City office (where stadium projects are managed) had legitimate interest in me, the career that I had believed to be too niche actually became a reality. I do believe that this opportunity aligns with my high school self's dream career well."
Crumly earned a bachelor's degree in civil engineering, with a minor in entrepreneurship, in 2021 and spent this school year concentrating on structural engineering graduate-level courses before completing his master's degree in late February. Along the way his engineering skills were enriched through internships with KPFF consulting engineers (Boise, Idaho) and Black & Veatch Construction Inc. (Overland Park, Kansas). He completed structural/geotechnical work for underground transmission lines and helped design medical buildings, multi-level residential complexes and expansions to international airports.
"I learned so much during my graduate studies at Rose-Hulman. In only one year of graduate classes, I feel like I was well prepared for a career in the structural engineering field," he stated. "I do not think that there is a different school or department that provides more support, attention and genuine interest in a student's education than the civil engineering department at Rose. When you combine the opportunity to get educated in that atmosphere with the drive to overcome the challenges that graduate school presents, then the output speaks for itself." 
Rose-Hulman's civil engineering faculty instill students to practice engineering through strong moral and ethical values. Students also are urged to be well organized and document their work during group projects.
In a senior-year capstone project, Crumly joined three other students in developing plans for Terre Haute's Fairbanks Park that could accentuate a walkway for pedestrians and bicyclists along the historic Wabash River, integrate a splash pad family recreation area, and add a boathouse and docks for the hosting collegiate rowing events. The project was commissioned by the Terre Haute Chamber of Commerce's Quality of Life Task Force and had considerable interest from Terre Haute Mayor Duke Bennett.
Team members kept community leaders abreast of ongoing project developments through quarterly online presentations and completed a nearly 300-page final report. These plans are now being reviewed by City of Terre Haute Engineering Department and will be eventually implemented, with any changes, whenever financial resources become available, according to Bennett. 
Then this year, Crumly helped complete another exciting Building Design class project: Designing a structure to be constructed on Earth, shipped to the Moon, and then standing on the Moon without collapsing. In between planning sessions, students discussed the challenges in each phase of the implementation of the building, different loads on the building throughout its lifespan, and the pros and cons of different material types/ shapes.
"While it was all theoretical and some assumptions were made, it was still amazing to see how a small group of 22-year-old students, with a professor's guidance, were able to design a structure to be shipped to the Moon," said Crumly, who was an officer in the American Society of Civil Engineers student chapter. "All members of the faculty are very close and have conversations with students outside of the academic topics. Their doors are always open for any questions, and they are glad to help. Friendships develop from various group activities with other students, and then relationships with peers goes beyond the classroom."