Civil Engineering Students Help Plan Wabash Valley Community Projects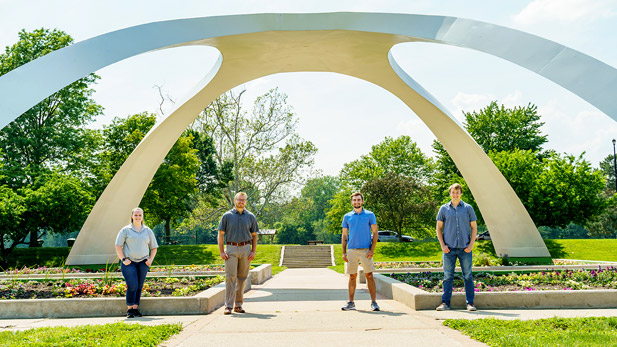 A win-win engineering situation.
That's what happened this school year as graduating civil engineering students worked together as pre-professional consulting teams to help several Wabash Valley organizations address issues involving community development, transportation, and urban planning, and stormwater management.
Civil engineering
student groups annually use their skills to design large-scale projects as a capstone to their college careers. Throughout the eight-month process, they work with corporate, governmental, or community clients to develop a concept and examine its feasibility, seek background data and feedback, create a suitable design solution, develop construction planning, and make a presentation of the final planning. Also, a complex report, complete with detailed plans, is prepared for each client.
Six of this year's eight projects were completed for nearby communities and organizations, because of COVID-19 pandemic health and safety travel restrictions.
A team developed plans for Terre Haute's Fairbanks Park that could accentuate a walkway for pedestrians and bicyclists along the historic Wabash River, integrate a splash pad family recreation area, and add a boathouse and docks for the hosting collegiate rowing events. The project was commissioned by the Terre Haute Chamber of Commerce's Quality of Life Task Force and had considerable interest from Terre Haute Mayor Duke Bennett.
Designing aspects of the project were recent graduates Hunter Crumly, Derrek Miller, Samantha Stevens, and Michael Whitacre. Team members kept community leaders abreast of ongoing project developments through quarterly online presentations and completed a nearly 300-page final report. These plans are now being reviewed by the City of Terre Haute Engineering Department and will be eventually implemented, with any changes, whenever financial resources become available, according to Bennett.
"The students have provided us with a great steppingstone of recreational and family-oriented projects that will further enhance a city park that's important to our community," said the mayor about the Reimagining Fairbanks Park Riverfront project. "Some of these plans have been on our Wish List for some time. The students' fine work will help us make those dreams a reality in the future."
Other 2021 community-oriented capstone projects were:
Vigo County Maintenance Facility: Gavinn Bakker, Anastacia Greene, Lauren Conley, and Hans Knoepfel examined ways to expand a maintenance facility in Terre Haute to provide additional storage and shelter for vehicles. Plans also provide possible solutions for parking, pavement/traffic flow, and stormwater runoff issues.
Terre Haute's Lafayette Avenue: Stella Cheesman, Andrew Dion, Michael Dula, and Cade Hellyer provided Terre Haute's Engineering Department with plans to add sidewalks to a major transportation route linking the growing northside to the city's downtown. Pedestrian walkways must safely cross a creek and navigate around several commercial business entrances. Stormwater runoff problems were also addressed.
Town of Seelyville, Indiana: Addressing community development concerns were Lois Cheatham, Morgan McDonald, Renting Tan, and Dom Yurkanin. The team's plans included a redesign of the city park, street design and repaving, stormwater management, street and alley recovery, and sidewalks and trails to improve community pedestrian accessibility.
Connecting Marshall, Illinois, to I-70: The City of Marshall requested a shared-use path to connect the city to a commercial area near an interchange along Interstate 70. Dawson Allen, Luke Calabrese, Nick Miller, Robert Neal, and Austin Sauerteig also designed a railroad overpass and a water tower system to serve current and future needs at the commercial and industrial site.
Rosedale, Indiana, Site Development: Harris Camp, Alex Gipson, Colby Horne, and Logan Hutchison worked with the Parke County Redevelopment Commission to examine utility, transportation, building, and stormwater management regarding a proposed industrial development site.
Associate professors Jennifer Mueller and Kyle Kershaw coordinated this year's senior-year capstone projects. Other faculty serving as project mentors were John Aidoo, Jim Hanson, Matt Lovell, Michelle Marincel Payne, and Namita Shrestha, and Kevin Sutterer.