Alumni Duo Bringing Strategic Vision & Tech Expertise to Board of Trustees
Wednesday, March 02, 2022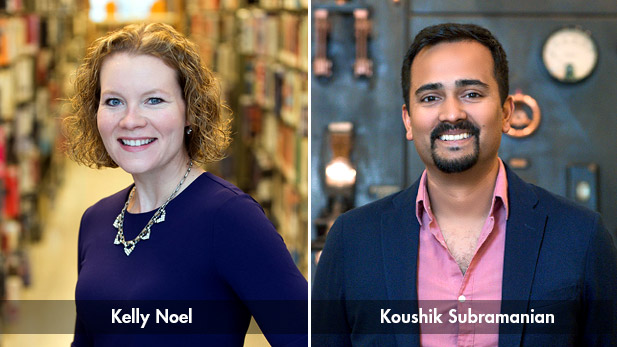 The Board of Trustees has added the knowledge, talent, and experience of two successful alumni in technology career fields who also have an understanding and appreciation for development of higher education strategies. Kelly (Sullivan) Noel and Koushik Subramanian will begin their terms of service to the institute this spring.
Noel is vice president of the UPMC's corporate construction and real estate division based in Pittsburgh while Subramanian has expertise in the fields of cybersecurity and is an accomplished speaker and advisor on information security and risk management.
President Robert A. Coons stated, "Kelly and Koushik will be important trustee contributors, providing leadership as we establish the short- and long-term strategies to ensure the institute builds upon our successes of our Mission Driven Campaign for Rose-Hulman while also meeting the challenges developing within higher education in the competitive undergraduate science, technology, engineering, and mathematics landscape."
Noel, a 2002 electrical engineering alumna, has used career experiences to develop strategic expertise along with a business acumen and practical leadership qualities to produce quantifiable success. She oversees more than $750 million in capital projects annually for UPMC's 40 hospitals, more than 700 health care sites, and 23 senior care centers for patients, families and communities in Pennsylvania, New York, and Maryland. Her work also includes a $2 billion investment to establish three new specialty hospitals focusing on vision, heart, cancer, and rehabilitation services.
She previously served as system vice president of facilities with Advocate Aurora Health in Milwaukee (2018-2020); senior vice president and director of construction management with Aurora Health Care (2015-2018), also in Milwaukee; director of mission critical projects/design phase manager/director of wellness with Mortenson Construction (2012-2015) in Milwaukee/Madison, Wisconsin; and project manager with Affiliated Engineers Inc. (2002-2012) in Madison, Wisconsin, and Chicago. Noel has listed among Diversity MBA's Top 100 Rising Stars Under 50 (2020) and the Milwaukee Business Journal's 40 Under 40 (2019), while being named the Business Council's Strategic Partner of the Year (2018) and earning Mortenson Construction's Pinnacle Award (2013). 
Noel's service to Rose-Hulman has included serving the Alumni Advisory Board as president (2019-2021) and vice president (2018-2019), executive board member (since 2016), and awards committee chair (2014-2018).
"Rose-Hulman is a highly successful school with a tremendous trajectory. There is an incredible opportunity ahead of us and planning for the inevitable evolution of education, especially in areas of diversity, equity and inclusion," Noel said. "My Rose-Hulman education has been the foundation of my career. I learned to use the resources around me, how to merge the diverse talents of the team, and use the skills that made me unique as strengths, not see them as weaknesses. Today, being a leader of diverse teams continues to be about navigating challenges without simple answers, working outside your comfort zone, and elevating your team to reach their potential."
Subramanian, a 2006 computer engineering graduate, started his career in cybersecurity through performing penetration tests on banks to identify vulnerabilities and provide remediation guidance. His career has included a variety of positions with multiple industries, including crypto, finance, risk, compliance, healthcare, energy, data science, and government. He currently spends time in the digital asset and blockchain space with projects that help grow awareness around powerful tools like cryptocurrency, non-fungible tokens (commonly known as NFTs) and smart contracts.
In 2022, Subramanian founded drophouse.art to combine his interests in art, fashion and crypto. Two years earlier, he founded Kopper Labs to deploy capital to accelerate the adoption of automation, blockchain and cybersecurity technology. And in 2018, he joined Kraken as the director of information security, navigating the complex world of cybersecurity and digital assets on a global scale.
Also in 2018, Subramanian was chief information security officer of UI Labs (now known as MxD) and director of manufacturing cybersecurity for the Digital Manufacturing Design Innovation Institute. Earlier he was director of risk and compliance with Uptake Technologies and qualified security assessor (QSA) with Trustwave after starting his career in network security and risk assessments with Crowe Chizek (now known as Crowe).
"I believe in making the world more productive, trustworthy and safe by accelerating the adoption of automation, blockchain and cybersecurity tools. I believe these are the tools to help drive much-needed change to make the world more equitable for everyone," said Subramanian, who lives in Chicago. "I have been fortunate to assess many of the world's top brands from a security perspective and there are a lot of lessons learned. I want to help educate and make the world aware that automation gives us time, blockchain gives us trust and cybersecurity gives us protection."
Being a trustee is the next opportunity for Subramanian "to give back to the place (Rose-Hulman) that invigorated my sense of lifelong learning, unlocked my curiosity about future technologies, and providing the skills to adapt quickly to an ever-changing tech world … I want to help make sure Rose-Hulman and its graduates are always on the leading edge of the learning curve."