Alumnae Showcase the Power of Women in STEM
Wednesday, April 06, 2022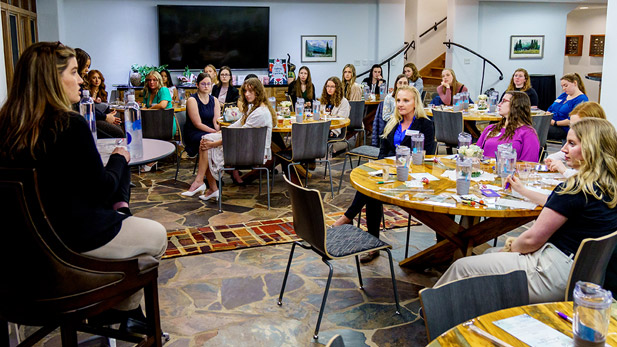 The past met the future for a free-flowing campus panel discussion on the Power of Women in STEM during this year's Women's History Month celebration. 
Five alumnae provided a large group of current women students with valuable insight on careers in science, technology, engineering, and mathematics (STEM), how they can overcome gender inequalities in the workplace, and how they need to be respected for the fresh perspectives they bring to their projects. There was also plenty of discussion about how Rose-Hulman can provide them with the skills and work ethic to make a difference to others.
The special event, hosted by Rose-Hulman's First Lady Tammy Coons, was organized by residence hall student leaders Grace Eggers, Susan Harmet and Rachel Kelly. It was sponsored by the Center for Diversity and Inclusion and supported by the student affairs and alumni relations offices.
The guest alumnae panel, moderated by 2011 biomedical engineering graduate Kristen (Latta) Merchant, featured:
"Hearing stories from successful women allows students to relate to the [alumna] experiences and better understand how to cope with situations and how to end up being successful," said Eggers, a sophomore engineering design major. "Hearing words of wisdom by alumnae who once were in our shoes, gives us hope that we will be able to be successful despite the ongoing judgment of others we face every day as women in STEM."
The alumnae encouraged students to find women mentors within their future companies who can provide words of encouragement, advice, and a helping hand whenever necessary. They also related how friendships made with their women classmates at Rose have been invaluable. Many of the alumnae noted they still remain in touch with those classmates today.