Veteran Faculty, Staff Honored for Teaching, Scholarship & Service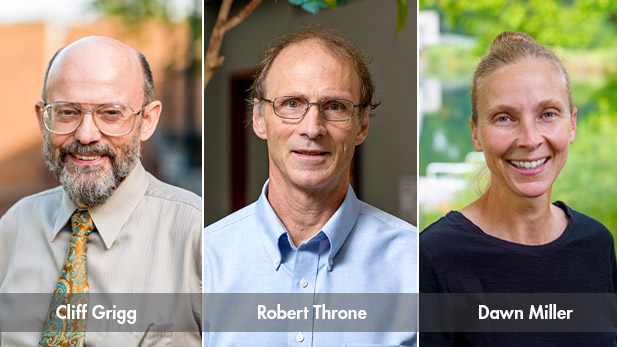 Electrical and computer engineering professors Cliff Grigg and Robert Throne shared the spotlight with a long list of faculty and staff members whose teaching skills, research and scholarly pursuits in their academics and compassion for their colleagues and students were on full display as Rose-Hulman successful dealt with COVID-19 health and safety precautions.
Grigg received the Dean's Outstanding Teacher Award while Throne earned the Board of Trustees' Outstanding Scholar Award. Meanwhile, Office of Career Services and Employer Relations' Operations and Recruiting Manager Dawn Miller earned the President's Outstanding Service Award.
Those three distinguished awards were announced May 27 during a special Commencement Awards event for Rose-Hulman faculty and staff.
Grigg completed his 36th year on the faculty this spring, teaching courses ranging from AC circuits to his area of specialization in power systems. He developed and manages the Power Certificate, mentoring approximately 10 students each year through upper level courses that prepare students for work in the electrical energy sector. Grigg also has been chair of the institute's promotion, tenure and reappointment committee.
Dean of Faculty Russ Warley noted that Grigg "consistently garners very high student evaluations in his courses. Dr. Grigg's students provide accolades for his enthusiasm, helpfulness, clarity, and especially his sense of humor." Warley notes that these comments provide a tiny glimpse into the impact that Grigg has on his students.
One of Grigg's former students stated, "Every single [electrical and computer engineering] major in the school deserves the joy of being taught by the one and only Dr. Grigg. I cannot stress enough how much I enjoyed being in his class, and how well I feel I know the material after learning from him for 10 weeks."
Throne is completing a three-year term as the Lawrence J. Giacoletto Endowed Faculty Chair of Electrical and Computer Engineering and a senior member of Institute of Electrical and Electronics Engineers. He is an expert in inverse problems, control systems and digital signal processing, with 25 published scholarly articles, 85 conference presentations and two technical patents.
Board of Trustees Chair Niles Noblitt noted that Throne's recent research, assisted by several undergraduate students, studies early detection of breast cancer by developing maps of tissue stiffness using inverse methods. These efforts cover work in experimental design, equipment design and fabrication, data collection and analysis, communication of results to the scientific community, and outreach to a local middle school.
Miller has spent more than 16 years serving students, alumni and employers with enthusiasm and dedication–efforts that have had the Office of Career Services and Employer Relations recognized as among the nation's best in the Princeton Review's annual student survey.
President Robert A. Coons stated, "Without fail, Dawn works to ensure our students have the best possible career options when they graduate and to keep the world's finest employers knocking on our door."