Throne Named Giacoletto Endowed Faculty Chair
Tuesday, January 08, 2019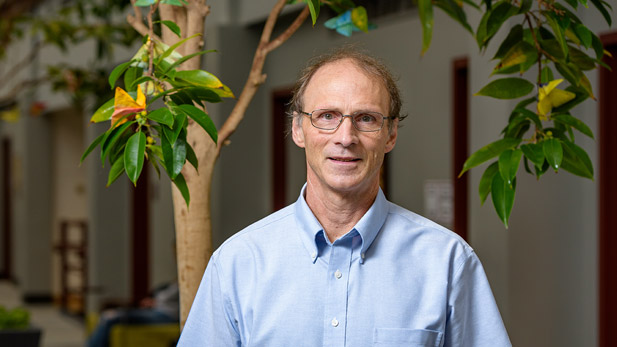 Robert Throne has started a three-year term as the esteemed Lawrence J. Giacoletto Endowed Chair in Electrical and Computer Engineering, recognizing his outstanding work as an educator and academic scholar.
Endowed faculty chairs honor members of the Rose-Hulman faculty for their exemplary accomplishments outside of Rose-Hulman and further support their professional activity in both national and international circles of scholarship, according to Anne Houtman, provost and vice president for academic affairs.
Professors receive annual stipends to continue to excel in their specialized areas, lead conversations with other educators in their fields and support research opportunities with undergraduate students.
"We rely on our endowed chair holders to perform at the very highest levels of scholarship and teaching, and be models of engaged disciplinary and educational expertise. Our endowed chairs showcase to the world that Rose-Hulman provides the world's best educational environment in science, technology, engineering and mathematics," said Houtman.
The Lawrence J. Giacoletto endowed chair promotes professional activity for electrical and computer engineering faculty members. It honors the legacy of Giacoletto, a 1938 Rose-Hulman graduate who was a distinguished engineer and educator, as well as Fellow of the Institute of Electrical and Electronics Engineers.
Throne is a professor and former department chair who specializes in biomedical signal processing, numerical solution of inverse problems, control systems and digital signal processing. He is currently working with faculty colleagues on the use of inverse problems to develop a better method of early breast cancer detection, and holds two patents for his contributions to other projects. His industrial experience includes being a design engineer with Raytheon.
As an endowed faculty chair, Throne will work with an undergraduate research assistant each summer on a variety of projects that will be featured in annual public presentations that will highlight current accomplishments. He also will have an active role as engineering educator on the national scale as a senior member of IEEE and a program evaluator for ABET, the accrediting agency for college engineering and technology programs.
Past Giacoletto Chairs are Ed Wheeler, a recognized leader in the areas of electromagnetics and signal integrity, and Mark Yoder, who has written two textbooks on digital signal processing.