Kathy Hammett Honored for Leadership Role in International Education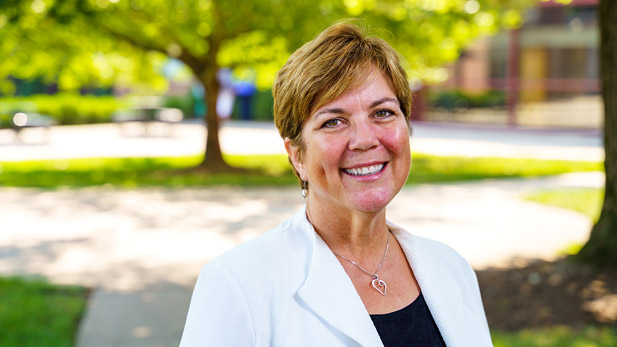 Kathy S. Hammett, senior director of the Center for Global Engagement, has been recognized by NAFSA: Association of International Educators with the prestigious 2021 International Education Award for distinguished service to the organization and its membership.
The award honors a current NAFSA member who has shown leadership in association activities or sustained stewardship of international education. It will be presented during the NAFSA 2021 Annual Conference and Expo, taking place June 1-4.
Hammett has had numerous NASFA regional and national leadership roles. She volunteered to be chair of the NAFSA 2020 Annual Conference and Expo, a leadership role that required dedication and focus for 30 months while creating, curating, and convening the largest international education conference in the world.
Originally planned as an in-person event in St. Louis, Hammett helped make a successful transition to a first-time online conference gathering. This year's conference will once again be virtual.
"The Award for Distinguished Service to NAFSA honors imagination, personal enterprise, and creative contributions to professional development," said Esther Brimmer, NAFSA executive director and chief executive officer. She notes the NAFSA International Education Award is presented in honor of Homer Higbee and Marita Houlihan.
Brimmer adds, "Through Katherine's leadership with NAFSA, she has upheld the legacy of Marita Houlihan and Homer Higbee to the benefit of our community."
Hammett has overseen
Center for Global Engagement
since 2014 and has been assisting international students in higher education for more than 30 years. She is committed to Rose-Hulman's strategic vision of ensuring the institute remains culturally diverse through students from other countries being on campus and globally connected through study and work abroad programs.
Provost and Vice President of Academic Affairs Rick Stamper states, "COVID-19 international travel restrictions have made the past year challenging for international study programs at all U.S. colleges and universities. Kathy has used her considerable experience to strengthen relationships with our international study program partners. This will ensure that we'll continue to provide our students with worthwhile educational and work experiences across the world."
For her role in international education, Hammett says, "I love working with students to help them engage with the world and to broaden their perspective, but also to help them achieve their academic goals. At the same time, I enjoy partnering with faculty and staff to develop expanded opportunities for campus-wide international engagement."
Learn more about Hammett's commitment to international education
here
.
NAFSA is the largest and most comprehensive association of professionals committed to advancing international higher education. The association believes that international education advances learning and scholarship, fosters understanding and respect among people of diverse backgrounds and perspectives, is essential for developing globally competent individuals, and builds leadership for the global community.