Alumnus Jeffrey Harrison Named Indy's Top Business Leader, Chair of New Business Equity for Indy Committee
Friday, November 05, 2021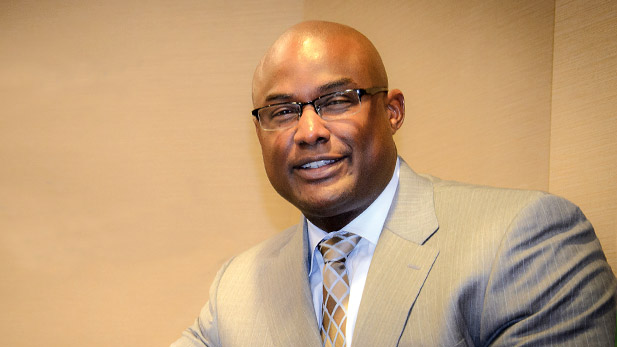 Compassion for others has alumnus and trustee Jeffrey A. Harrison being recognized as the Indiana Chamber of Commerce's 2021 Ogletree Deakins Business Leader of the Year award recipient in a gala event Tuesday, November 9, in downtown Indianapolis. The event will be attended by many peers, colleagues and longtime admirers of the president and chief executive officer of Citizen's Energy Group.
Harrison also has been named chair of the new Business Equity for Indy Committee, a group of Indianapolis-based corporate leaders committed to advancing a fairer and more inclusive future for the city's Black population and other peoples of color. The committee is a venture of the Central Indiana Corporate Partnership and Indianapolis Chamber of Commerce, with support from the Indianapolis Urban League.
Indiana Chamber President Kevin Brinegar cites that a strong sense of community responsibility is a cherished asset for Harrison, a 1989 electrical engineering graduate who has been at Citizen's Energy since 2003 and has led the Indianapolis utility since 2015.
Recognizing the importance of families having access to water during COVID-19, Citizens Energy implemented a policy of reconnecting/not turning off the vital water service for nonpayment – before any government moratorium was issued. The company continues to work with those facing financial hardships, extending payment arrangements up to a year.
"If we look at those customers who are struggling, I've walked more than my share of a mile in their shoes … I've been on free and reduced lunch – grew up on food stamps and fairly poor. I get firsthand the struggles that take place in some of these households," shares Harrison in a chamber news release.
Business Equity for Indy Committee, led by Harrison, has identified several priorities for immediate action through specific activities, with key leaders in the community coming forward to drive responsive investments and programs. These areas include expanded hiring, promotion and leadership opportunities for the region's Black population and other peoples of color; expansion of minority-owned business enterprise participation and procurement opportunities in the regional economy for businesses owned by Blacks and other peoples of color; and addressing healthcare disparities, including maternal and child health, flu vaccinations for vulnerable populations, and food insecurity.
"These early agenda priorities represent a confluence of insights from our local community in which Central Indiana businesses can actively drive change," stated Harrison in a news release announcing the committee. "The potential of this committee and the breadth of the business community coming together to be a part of this is extraordinary and seeing this drive and passion for change and service is unique."
Harrison also is active in Rose-Hulman, serving on the Board of Trustees and as co-chair of the institute's successful $250 million Mission Driven Campaign. He also is the parent of 2020 mechanical engineering alumnus Zackery A. Harrison.