Fall 'Live on the Lake' Concerts Begin Wednesday, Sept. 18
Wednesday, September 11, 2019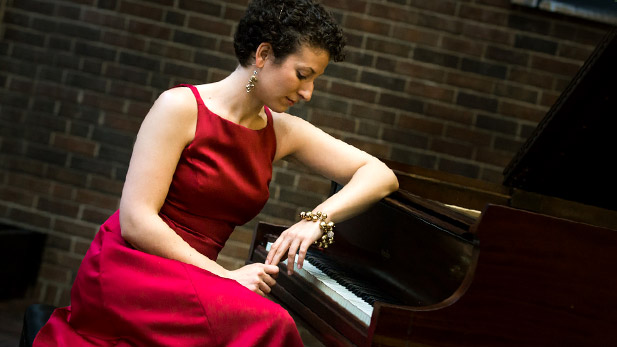 A familiar award-winning musician returns to campus on Wednesday, Sept. 18, at 8 p.m. to kick off the fall portion of the 2019-2020 Discovery Music Series' Live on the Lake shows.
These free events in the college's White Chapel showcase high-quality classical and contemporary music for the campus and Wabash Valley community, according to David Chapman, associate professor of music. Musicians will talk directly to the audience during each performance, making connections between their art and their listeners, many of whom are experiencing live music for the first time.
The first show in this year's series will feature pianist Clare Longendyke. She will perform music from a variety of classical eras, including legendary composers Alessandro Marcello, Ludwig van Beethoven and Maurice Ravel, along with living composer Mason Bates. Her musical selections will relate to classical music courses that Chapman are teaching this fall academic quarter.
Longendyke has performed solo and chamber music recitals across Europe and North America, and has premiered over 50 new musical works since 2012. She earned first place honors in the Philharmonic Society of Arlington's Young Artist Competition, the Schubert Club of Minnesota's Scholarship Competition, the National Society of Arts & Letters Instrumental Competition and the Indiana University Piano Concerto Competition.
A native of Minneapolis, Minnesota, Longendyke has been a featured soloist in the Fazioli Piano Series (Los Angeles) and the Silvermine Artist Series (Connecticut), is a founding member of three classical musical duos, and is the pianist and administrative director of Calliope's Call, a Boston-based art song performance group. She has musical degrees from the Boston University College of Fine Arts, the École Normale de Musique in Paris, France, and IU's Jacobs School of Music, where she completed her doctorate in music performance earlier this year. She also is the new director of chamber music and artist in residence at the University of Chicago.
In the spring, Indiana State University music professor Erik Rohde will perform March 22 (5 p.m.) with Longendyke in a recital of music inspired by math and numbers. This will be part of a new course Chapman is teaching next spring with Rose-Hulman mathematics professor John Rickert. The show will include musical selections by composers Johann Sebastian Bach, Anton Webern, Erik Satie, Robert Schumann, Amy Williams and Bach.
Then, on May 21 (2 p.m.), Chapman will perform compositions written by Rose-Hulman students who are studying music theory and composition this spring.
No advanced tickets are needed for any of the shows, with seating on a first-come, first-served basis.  
The White Chapel is located on the west side of the Rose-Hulman campus, overlooking a large pond – an appropriate setting for the Live on the Lake shows. There is parking available near the building.
Shows within the Discovery Music Series are being sponsored by Rose-Hulman's Department of Humanities, Social Sciences and the Arts, the Center for Global Engagement, and the Center for Diversity and Inclusion.