$1.5M Gift to Create Glass Outdoor Pavilion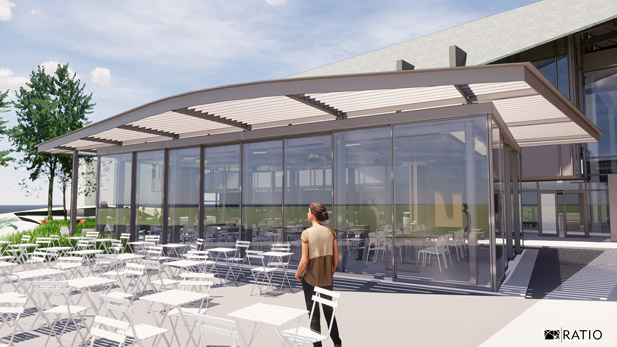 Last May, Linda and Mike Mussallem stood in the sunshine outside a renovated and expanded student union to cut the ribbon on this major campus enhancement. The project would not have been possible without their support: the Mussallems provided the $9 million lead gift for the $25 million project.
Today, the institute is announcing an additional $1.5 million gift from the Mussallems to provide an adjacent pavilion for outdoor dining and gatherings with sliding glass doors around the perimeter and plants on the roof. Situated just a stone's throw from where the couple helped dedicate Mussallem Union ("The Muzz"), the pavilion will provide seating for 40-50 people and be usable nearly year-round, allowing for protection from the elements during cooler months and the ability to enjoy the outdoors via open walls during warmer weather.
Mike Mussallem, a 1974 chemical engineering alumnus, is chairman and chief executive officer of Edwards Lifesciences, based in Irvine, Calif.
The Mussallems' newest gift will cover design, construction and equipment costs for the free-standing pavilion that will complement the nearby student center and White Chapel. The structure also will have audio-visual equipment for multimedia presentations, including student movie nights and other gatherings. Included in the project will be an outdoor grill for use during student events.
Sustainable green space filled with plants will cover a portion of the building's roof and will be visible from the second floor of the Mussallem Union. This provides continuity with the large living wall that serves as a featured focal point in The Muzz consisting of potted tropical plants that provides a soothing atmosphere for students in the Hulman Living Room.
The Mussallem gift supports Rose-Hulman's Mission Driven campaign, which is raising funds for new and improved campus facilities, academic and other enhancements, and endowment growth to promote faculty excellence, and expand scholarships and financial aid.
"We're grateful that Linda and Mike continue to share our vision for enhancing the overall student experience," said President Robert A. Coons. "The gleaming new student union has already exceeded all of our expectations for providing students with relaxation and socialization space, and healthy dining options. The place is busy at all hours; students love hanging out there. This new pavilion will extend those benefits and ensure that our students — who work extremely hard — have the spaces they need to unwind and recharge with their friends."
In a joint statement Linda and Mike Mussallem remarked, "We are so pleased to partner with Rose-Hulman to expand the student union to the outdoor pavilion, which we hope will give students an additional space to enjoy, de-stress and create community. The Muzz and surrounding areas serve as the vibrant campus center and it is exciting to see how much the students are enjoying it. We look forward to this vision for the pavilion becoming a reality."
The pavilion was designed by RATIO Architects of Indianapolis, which also designed the Mussallem Union. Construction of the outdoor structure is expected to begin this spring with completion in time for dedication at Rose-Hulman's Homecoming, Oct. 4-5.
Mike Mussallem has led Edwards Lifesciences for more than 18 years, during which the company has established its position as a global leader in patient-focused medical innovations with the introduction of lifesaving and life-sustaining therapies such as transcatheter aortic valve replacement, rapid-deployment surgical heart valve replacement and non-invasive hemodynamic monitoring. He was recognized in 2018 at No. 15 among the world's best-performing chief executive officers, as compiled by Harvard Business Review. Mussallem is a Rose-Hulman trustee who received an honorary degree from his alma mater in 1999 and was the featured speaker at the college's 2015 commencement.