Ribbon Cutting Opens Mussallem Union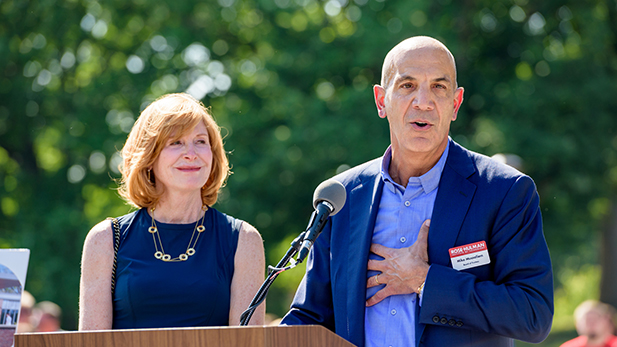 The sense of community that's always unified students, faculty and staff members at Rose-Hulman will be elevated even more through a newly expanded and renovated student union.
After two years of construction, the glass-fronted, nearly 104,000-square-foot facility with its lighted tower was dedicated Friday, May 25, in a celebration on the eve of the institute's commencement.
The building has been named in honor of Linda and Mike Mussallem, whose $9 million lead gift has created a place where the campus community can come together, relax and enjoy healthy dining—relishing time to refresh and recharge from the rigors that come with an academically challenging education in science, engineering and mathematics.
"I wanted the students to have place they could use for fun. Rose-Hulman is such a demanding place academically that students need a cool place where they can do their own thing and enjoy the simple things in life," says Mike, a 1974 chemical engineering graduate who has gone on to become chairman and chief executive officer of California-based Edwards Lifesciences.
Mike closed the ribbon-cutting ceremony by advising students – past, present and future – to "dream big."
That's what the Mussallems did with their support of the $25 million project.
"We had a vision for what this building could be, but [the completed project] is well beyond our wildest dreams," says Linda.
The Mussallem Union has the following features:
Expanded student lounge spaces in Hulman Living Room, with a Living Wall created from 1,458 potted tropical plants, arranged in a curvilinear design to represent movement. (The room was named in honor of the institute's long association with the Anton "Tony" and Mary Fendrich Hulman family of Terre Haute.)
A coffee/smoothie bar

A Chauncey's café with an authentic pizza oven and a kitchen where chefs demonstrate the preparation of healthy meals (named in honor of the college's founder, Chauncey Rose)

New outdoor patio and gathering spaces, where students can relax with a good novel or visit with friends, and a new "campus green" where a pond used to be—a grassy spread ideal for throwing a Frisbee or playing a pickup game

A spacious main dining room with healthy food choices presented by a new food service provider, Bon Appetit, which prepares fresh-cooked, high-quality food from scratch using products from local farmers

A 120-person dining/meeting space ("The Lake Room") and an expanded faculty/staff dining room

New state-of-the art spaces for the Office of Career Services

New and refurbished conference rooms, with high-quality audiovisual technology
"Our desire from the beginning was to create a building that promoted a better quality of life, stronger relationships and healthier food options. That's what has happened," said Erik Hayes, vice president for student affairs and dean of students. He points out that student surveys have heavily endorsed the building and Bon Appetit's food service.
"We now have a full-fledged union – a place that everyone can call home," said Rose-Hulman President Jim Conwell. "We're indebted to the support Linda and Mike Mussallem have provided for this project, helping Rose-Hulman meet its long-range goals."
Student leader Sydney Black, a junior mechanical engineering student, stated that "once students get here, they want to stay."
The Mussallems' gift was the second-largest cash gift presented to the institute by an alumnus.
Mike Mussallem is a Gary, Ind., native has led California-based Edwards Lifesciences to become a global leader in patient-focused medical innovations for structural heart disease, as well as critical care and surgical monitoring. He is a Rose-Hulman trustee, was awarded an honorary degree from the college in 1999 and was the featured speaker at the institute's 2015 commencement.
Linda spent the first 15 years of her career in industry doing materials management, but ultimately transitioned to her true passion of interior design. The couple is originally from the Midwest, now living in California, and recently celebrated their 42nd wedding anniversary.