Students' STEM Skills in Demand by Corporate Recruiters
Thursday, February 09, 2023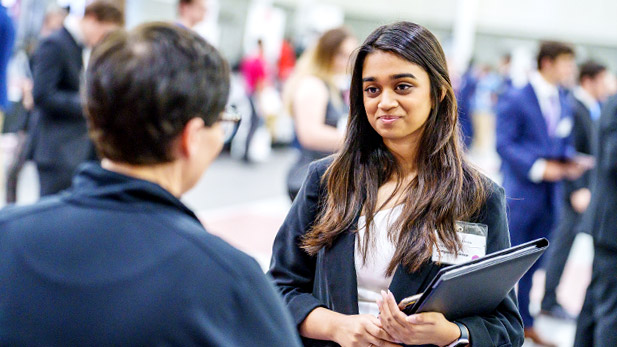 There have been a variety of recruiters at Rose-Hulman this winter sharing a need for students with the keen problem-solving and technical skills, fresh ideas and an entrepreneurial mindset that will keep companies at the forefront of today's competitive global business marketplace.
The latest flock brought such companies as Collins Aerospace, Epic, GE Appliances, Raytheon Technologies, Rolls-Royce, Steel Dynamics, and Texas Instruments to the latest of three career fairs organized annually by the Office of Career Services to provide students with postgraduate and undergraduate opportunities. More than 350 companies, graduate schools and research laboratories have attended campus recruitment events so far this school year. 
Pictsweet Farms, a family-owned Tennessee-based business that provides frozen vegetables for America's grocers, came to campus for the first time this academic year to seek students for full-time and internship positions to help automate, streamline and innovate the company's manufacturing processes and procedures.
"We're seeking employees with bright ideas and solutions and have now come to the top-notch engineering college in the country in hopes of finding some really strong candidates who can help us address our short- and long-term needs," said Ben DeLoach, the company's human resources manager.
Meanwhile, innovative Q-mation sought students with computing knowledge to help the global consultancy develop human-machine interfaces and database software for a growing list of clients.
"We're problem solvers and Rose-Hulman is a college full of students with that aptitude. If you can code and think logically, you can have a place with us," said Garrett Lowe, an application consultant at the company's Wonderware North operations. 
STEM-specific brand identity statements for companies at this year's Winter Career Fair proclaimed "We Engineer Careers" (Altec), "Chemistry That Matters" (SABIC Innovative Plastics) and "It's Your World. Build It" (USG Corporation).
Marathon Petroleum is among Rose-Hulman's Corporate Partners that are intent on engaging the next generation of technical leaders and innovators. The company's recruiters and alumni come to campus periodically to interview students, provide insight that could improve students' resume and interviewing skills, and support the institute's diversity recruitment efforts.
Corie Biggs, an engineering supervisor with the corporation, remarked, "Our Rose-Hulman partnership has been a win for Marathon and, hopefully, Rose-Hulman as well. Our recruitment emphasis is finding students for internships and providing them with great experiences so that they eventually want to work for us after graduation. Our internship program is a pipeline to the future for us and many manufacturers."
Sophomore civil engineering student Becky Jones is preparing for a summer internship with the Lochmueller Group after spending several months last year within Infrastructure & Energy Alternatives' wind farm in Iowa.
"I want to use each summer to learn about the different career opportunities within civil engineering. I was fortunate to find an internship after my first year and had a great summer with IEA. Now, after finding another internship during the Fall Career Fair, I'm ready to spread my wings even more with another company," she said.
Other Rose-Hulman corporate partners include Milwaukee Tool, Cleveland-Cliffs, DMI, Eli Lilly and Company, NAS, Caterpillar, Cummins, Edgile, OTC Industrial Technologies, Belden, Enjet, International Paper, North American Lighting, Naval Surface Warfare Center (Crane, Indiana), Wolfspeed, Reliable MicroSystems, and ThompsonThrift.