Student-Athlete Jailen Hobbs Excels Inside and Out of the Classroom
Thursday, February 02, 2023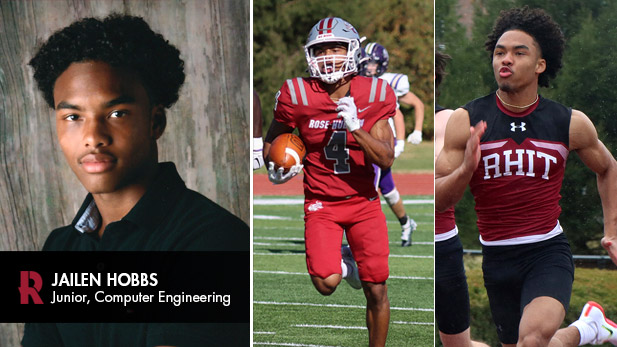 Jailen Hobbs knew at age 12 he wanted to be a computer engineer. At the time, video games  were the motivating factor for Hobbs, now a college junior majoring in computer engineering. As he got older and realized exactly what computer engineering entailed, the North Carolina native knew Rose-Hulman would be the right place to pursue his passion. He's made the most of his tenure in college — excelling academically and on the athletic fields.   
Hobbs earned Dean's List honors and credits the Rose professors, student community and the college's hands-on learning approach for his academic success. He also works hard to build relationships with his professors and connects with them outside classroom hours.
"If I didn't put in the effort to build relationships with professors, then I'm just a kid in the class to them," said Hobbs. "The professors check on students and make sure we're working and learning. They really help me be successful."
Hobbs recently completed an internship with Nvidia, a technology company that designs and manufactures graphics processing units (GPUs) for computers. The internship confirmed his desire to work on computer architecture and GPUs after graduating from Rose.
"The computer engineering major is really hands on," he said. "You're not just going to lectures and learning how computers work. You play with them, conduct experiments and participate in labs. It's very much hands-on experience with the architecture of the computer."
Hobbs is also an accomplished student-athlete. He plays wide receiver and returner for the Rose-Hulman football team and runs sprint events for the track and field team. He has set numerous records in athletics and been recognized by the Heartland Collegiate Athletic Conference (HCAC) as an outstanding athlete. Recently, Hobbs was named the 2022 HCAC Sprint Athlete of the Year and earned U.S. Track & Field and Cross Country Coaches Association (USTFCCCA) All-Region honors in both the indoor 60- and outdoor 100-meter dashes last season. He was named HCAC Sprint MVP in track and field (indoor and outdoor 2022), HCAC Newcomer of the Year in track and field (indoor and outdoor 2022) and set three school records in 2022.
Hobbs has played football throughout his three years at Rose and ran track the last two seasons. Even through his athletic success, Hobbs believes, he is attending Rose to be an engineer. He credits his coaches for contributing to that mindset and his success as well. 
"Academics always come first," he said. "The coaches want you to succeed in class before the sport."
When he's not studying or on the athletic fields, Hobbs enjoys building relationships in the residence halls, is a member of the National Society of Black Engineers and is a Noblitt Scholar. Hobbs hopes future students realize, like he did, that everyone has the capability to succeed at Rose.
"You can do it, you just have to be able to see your potential," said Hobbs. "And the people here at Rose will help you realize what you can be."