Robotics Event Hoping to SPARK! Youths' STEM Interests
Tuesday, February 21, 2023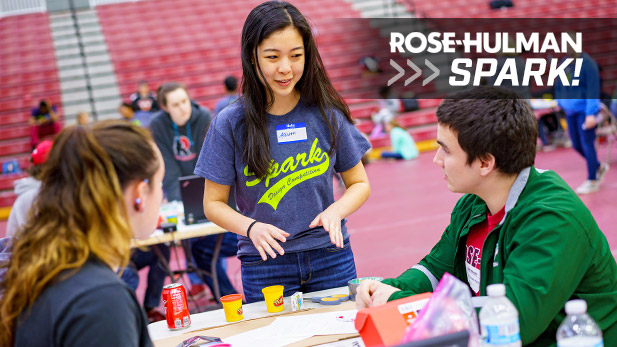 Middle school and high school students with budding interests in science, technology, engineering, and mathematics (STEM) will get the opportunity at Rose-Hulman to design a robot that navigates through an obstacle course during the free fun-filled SPARK! design activity April 1, from 1-4 p.m. (Eastern Time) in the college's Sports and Recreation Center.
"The Amazing Race" is the theme for this year's event, which strives to stimulate youths' STEM interests regardless of their backgrounds and current future study plans in high school and college. This will be done by teams of students using their creativity and problem-solving skills to design a robot that uses infrared receivers to follow a pathway that's filled with several obstacles.
"We want to introduce youths to STEM and show them that it's fun and exciting. The earlier we can make that introduction, the better for them to become the engineers, scientists and mathematicians that are needed for the future," said event student co-organizer Michael Olabintan, a sophomore software engineering student.
Other organizers include Sean Hyacinthe, a junior computer engineering student; Yue-Shan Lam, a junior electrical engineering major; and Nikki Bonilla, a sophomore computer engineering major. They are members of Rose-Hulman's Building Undergraduate Diversity (Rose-BUD) program, a networking and professional development student organization focused on increasing women and underrepresented group inclusion, specifically in the areas of computer science and software engineering and electrical and computer engineering. 
Children wishing to participate must register online at http://bit.ly/244pQpY by March 20 for free lunch, provided from 12:30-1 p.m., and event t-shirts. However, students can also register on the day of the event and participate in all planned activities, including snacks.
Teams with the best technical and creative designs, as determined by student and professional judges, will win prizes provided by the Rose-BUD program and event corporate sponsors ArcelorMittal and Texas Instruments.
SPARK! stands for Student Projects Advocating Resourceful Knowledge. 
The robots being used during the upcoming event are part of the Robotics for the Streets program, a national initiative by Carlotta Berry, PhD, Rose-Hulman's Lawrence J. Giacoletto Endowed Chair and Professor of Electrical and Computer Engineering. The program hopes to break down any social, ethnic and economic barriers limiting accessibility to those interested in learning about robotics. She is working to provide free open-source educational tools in mobile robotics, enhanced human-robot interfaces, and multidisciplinary robotics.
Professor of Computer Science and Software Engineering Sriram Mohan, PhD, is a co-faculty mentor for the Rose-BUD program and SPARK! activity.
The Rose-BUD program provides scholarships for high school seniors with approved applications for Rose-Hulman enrollment. Find out more information at www.rose-hulman/rosebud.