Julia Williams Chosen for Engineering Education's Hall of Fame
Friday, November 03, 2023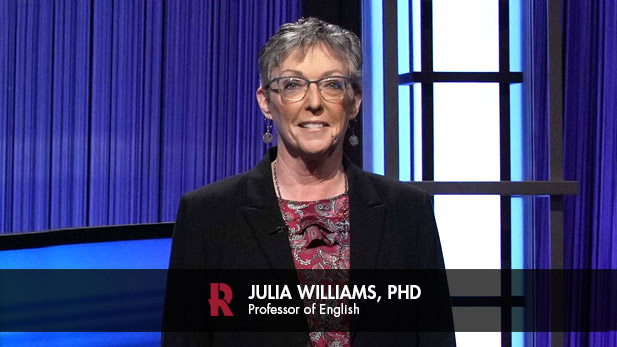 The contributions of professor Julia M. Williams, PhD, to enhance engineering and engineering technology education have been recognized with her selection to the American Society of Engineering Education (ASEE) Hall of Fame.
Williams' selection was part of ASEE's recent 130th Anniversary Gala in Washington, D.C., and she will be formally honored as part of the organization's Annual Conference next June in Portland, Oregon. 
Areas of excellence among the 2023 ASEE Hall of Fame honorees include pedagogy, broadening participation in engineering education, research, leadership and service, and entrepreneurship.
"This recognition by ASEE underscores Rose-Hulman faculty's sustained commitment to excellence in undergraduate engineering education, and their dedication to innovating and enhancing the student experience," said Rose-Hulman President Robert A. Coons. 
In a letter supporting Williams' Hall of Fame nomination, Kaitlin Mallouk, PhD, associate professor of experiential engineering education at Rowan University, wrote, "Dr. Julia Williams has led in the field of change skills preparation for engineering and engineering technology faculty since she joined ASEE in 1996. Through her publications, her workshops and curriculum design work, she has provided crucial expertise to educators so that they can cultivate the change making skills they need to transform teaching and learning." 
A member of Rose-Hulman's faculty since 1992, Williams has blended her work in the classroom as an English professor with leadership roles in assessment and academic change initiatives. In June 2023, Williams published "Making Changes in STEM Education: The Change Maker's Toolkit" (Routledge/CRC), a practical guide based on academic change research and designed to equip STEM faculty and administrators with the skills necessary to accomplish their academic change goals.
For the past two years, Williams has been building connections between engineering professional societies and the Kern Entrepreneurial Engineering Network (KEEN) to create value for engineers in industry and education. Core to her project is the Engineering Unleashed Ambassadors, a cohort of engineering faculty implementing entrepreneurial mindset principles into their courses, which she initiated during her sabbatical in 2020-21 with support from the Kern Family Foundation.
Williams is an authority in the field of technical communication and has spent over two decades advancing engineering education through her teaching, research, and leadership. She has published over 50 journal articles and conference papers, in addition to three books on topics related to communication, design, and ethics within engineering curricula and practice.
Reflecting on her award, Williams stated "As educators, we envision a better future for our students and for our colleagues. We know that changes in pedagogy can improve diversity, encouraging many more individuals to feel welcome in engineering. By equipping faculty with change maker tools, we can accelerate the rate of change that we are working toward."
Williams has been the recipient of numerous teaching honors, including the Rose-Hulman Board of Trustees Outstanding Scholar Award (2008), the IEEE Professional Communication Society's Alfred N. Schlesinger Award (2015), and the ASEE Liberal Education Division's Sterling Olmsted Award (2010). 
Away from the classroom, Williams served as executive director of Rose-Hulman's Office of Institutional Research, Planning, and Assessment from 2005-2016, helping the institute become a national leader in assessing student outcomes and use of educational technology. She then served as interim dean of cross-cutting programs and emerging opportunities from 2016-2019 before returning to teaching.
Williams holds doctorate and master's degrees in English literature from Emory University and a bachelor's degree in English and music from Trinity University, with a specialized diploma in Irish literature from the college's campus in Dublin, Ireland.