Dutrow Begins Inaugural Endowed Swearingen Chemical Engineering Professorship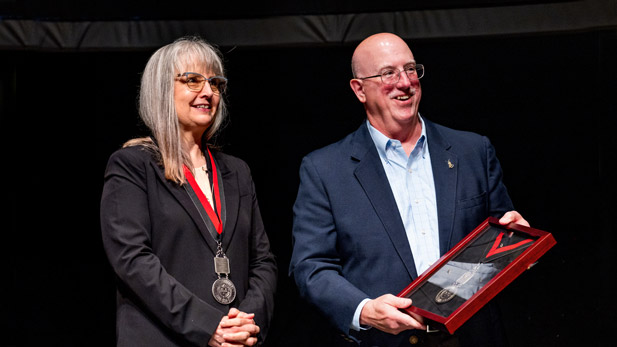 Associate Professor Sharon Dutrow, PhD, is expanding and enhancing process safety knowledge and application for Rose-Hulman students and faculty as the new John and Anne Swearingen Endowed Professor in Chemical Engineering. She began a three-year appointment on July 1. 
This endowed professorship is new for the Department of Chemical Engineering, in which John Swearingen earned a bachelor's degree in 1981. He went on to have a rewarding 39-year career with Marathon Petroleum Corporation, retiring in 2020 as executive vice president of logistics and storage.
John and Anne Swearingen provided a $2 million donation to establish the endowed faculty professorship, along with supporting laboratory and technology modifications for the department. The couple has provided previous scholarships to support students in achieving their career goals in science, technology, engineering, and mathematics (STEM).
The John and Anne Swearingen Endowed Professorship recognizes faculty who are committed to excellence and innovation in their fields and in educational pursuits, according to Richard House, Associate Dean for Professional Development, who coordinates the endowed chair program. Professors receive funding to continue to excel in their specialized areas, lead conversations with other educators in their fields, and create opportunities for students and colleagues.
Dutrow will use the endowed professorship to develop new foundational and advanced elective courses that educate Rose-Hulman chemical engineering students in numerous practical areas of process safety. She also plans to take time to gain further expertise about process safety, interact with safety personnel at companies within industries hiring Rose-Hulman graduates, disburse relevant safety information at national meetings and through the publication of scholarly papers, and provide a short course for faculty colleagues on cutting-edge industry safety principles and practices.
"Process safety knowledge and application can distinguish our graduates as they pursue industrial careers," stated Dutrow, a member of the Rose-Hulman faculty since 2002. "Process safety is critical to the chemical, biochemical, petrochemical, and other process industries. Providing chemical engineering students with a world-class education requires courses that are designed based on industrial practices and provide opportunities to practice associated skills." 
The Department of Chemical Engineering currently has safety protocols in place for all laboratory facilities and annually update, as needed, safety documents. Students also are required to read and sign a department safety requirements document before they can begin the junior/senior lab sequence of courses and have knowledge about safety equipment locations throughout all facilities.
Dutrow is passionate about teaching and has made offering challenging and rewarding active learning experiences as a primary educational objective. Her teaching interests include thermodynamics, process health and safety, and energy, and she has advised several projects for undergraduate and graduate students. She also worked with faculty colleagues to bring hands-on practices as a part of the department's first-year design sequence.
Dutrow is the current laboratory coordinator for the Department of Chemical Engineering and is a past award-winning campus representative for the American Society for Engineering Education and past chair of the organization's Illinois/Indiana section. She earned a bachelor's degree in chemical engineering from Florida State University and joined the Rose-Hulman faculty after receiving her doctorate in chemical engineering from Rice University as a National Science Foundation Fellow. Industry experience came from working for three years with Shell Oil Company.
The Department of Chemical Engineering's High Bay Laboratory of Olin Hall is named in honor of the generous support John and Anne Swearingen have provided to the department and its faculty and its students.
John Swearingen, a longtime member of the Department of Chemical Engineering's industry advisory board, started his career with Marathon Petroleum as a process engineer at the company's refinery in Robinson, Illinois, before transferring in 1987 to the corporate refining staff organization to assist in capital budget development and long-range planning. From 1989 to 1994, he worked at both the Indianapolis and Garyville, Louisiana, refineries, where he held several technical and operations management positions. In 1994, he returned to the corporate staff as the manager of refining engineering.  
With the formation of Marathon Ashland Petroleum in 1998, Swearingen was named asset development manager, with responsibility for capital budget development and strategic planning. He became manager of the Robinson refinery in 2001 and was appointed president of Marathon Pipeline LLC in 2009. In 2011, he was appointed vice president of health, environment, safety and security and was appointed senior vice president of transportation and logistics in 2015. Two years later, he was named executive vice president for logistics and storage.