Rose-Hulman Hosting FIRST Indiana Robotics State Finals This Weekend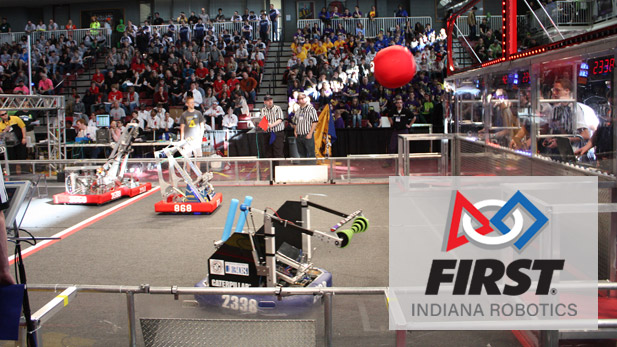 Another type of Hoosier Hysteria will have 32 of Indiana's best high school and family/community robotics teams competing on a basketball court-sized field in the FIRST Indiana Robotics state championships April 15-16 at Rose-Hulman Institute of Technology's Sports and Recreation Center. All activities are free and open to the public.
The competition involving critical thinking, creativity, collaboration, and problem solving has been called the "Ultimate Sport for the Mind." 
Since January 8, teams of students have worked with teachers and mentors to design, build and program completely from scratch 4-foot-tall and 125-pound robots that competed in district competitions late last month in Columbus, Kokomo and Lafayette. The district and state competitions have been organized by FIRST Indiana Robotics. The championship event is expected to attract nearly 3,000 spectators to the Rose-Hulman campus, along with approximately 600 high school students (9-12 grades), teachers, mentors/advisors (mostly tech and engineering professionals), and contest judges.
"This competition is filled with real-world applications," noted Rose-Hulman robotics educator Carlotta Berry, PhD, the Lawrence J. Giacoletto endowed faculty chair and professor of electrical and computer engineering. "It is exciting seeing all the different solutions that each team has developed to achieve a multitude of complex tasks. All the students are winners by getting to the state finals."
The state finalists are coming to Rose-Hulman from 23 communities throughout Indiana. The top-ranked teams from the regional competitions were suPURDUEper Robotics from Purdue Polytechnic High School in Indianapolis, CyberTooth from Kokomo's Northwestern High School, Huntington's independent Team THRUST, Maverick Boiler Robotics from Lafayette's McCutcheon High School, Cyber Blue from Indianapolis' Perry Meridian High School, Indianapolis' Kil-A-Bytes, from Lawrence Township's McKenzie for Innovation and Technology, and Career Academy South Bend. (See entire list of state finalists below, separated by hometowns.) 
Opening ceremonies are Friday, April 15, from 10:30-11 a.m. in the Sports and Recreation Center's Hulbert Arena with qualifying matches from 11 a.m. to 1 p.m. and 2-6:30 p.m. along with Saturday, April 16, from 9:30-11:30 a.m. Playoff matches are scheduled that second day from 1:15-4 p.m. and award ceremonies from 4-5:30 p.m. will conclude the weekend. (See entire event schedule below.)
This year's game, RAPID REACT, presented by The Boeing Company, has two competing alliances invited to process cargo for transportation. Each alliance is assigned a cargo color (red or blue, based on alliance affiliation) to process by retrieving their assigned cargo and delivering it into the center of the playing field. Human players assist the cargo retrieval and scoring efforts from within their terminals. In the final moments of each match, alliance robots race to engage with their hangar to prepare for transport.
Watch this video to learn about this year's exciting game.
Sponsors supporting the event and its teams and students include Rose-Hulman, FIRST Robotics Indiana, Terre Haute Convention and Visitors Bureau, Applied Research Solution, Bastian Solutions, Cook Medical, Grote Industries, Northwestern University's Master of Science in Law, Novelis, Nucor Vulcraft Indiana, Wayne Patrick, and Trine University.
Seven teams from this Indiana competition will qualify for the FIRST Robotics World Championship in Houston, Texas on April 20-23.
FIRST Robotics Indiana State Championships
Rose-Hulman Institute of Technology's Sports & Recreation Center
Friday, April 15
8-10:30 a.m. – Practice Rounds
10:30-11 a.m. – Opening Ceremonies
11 a.m.-1 p.m. – Qualifying Matches
1-2 p.m. – Lunch Break
2-6:30 p.m. – Qualifying Matches
6:30-7 p.m. – Closing Ceremonies
Saturday, April 16
8 a.m. – Pits Open, Fieldhouse Area
9-9:30 a.m. – Opening Ceremonies
9:30-11:30 a.m. – Qualifying Matches
11:45 a.m.-12:15 p.m. – Alliance Selections
12:15-1:15 p.m. – Lunch Break
1:15-4 p.m. – Playoff Matches
4-5:30 p.m. – Award Ceremonies
------------------------
Competing Teams
(Listed by Hometowns)
Indianapolis
Cyber Blue – Perry Meridian High School
The Digital Goats – Walker Career Center/Warren Central High School
Pike RoboDevils – Pike High School
Kil-A-Bytes – McKenzie for Innovation and Technology/Lawrence Township
suPURDUEper Robotics – Purdue Polytechnic High School
Anderson
Team Roboto – Family/Community
Bloomington
The Quadrangles – Bloomington South High School
Brownsburg
Purple Precision – Brownsburg High School
Carmel
TechHOUNDS – Carmel Senior High School
RoboBlazers – University High School
Columbus
GalacTech – Columbus North & East High Schools
Evansville
Huskies on Hogs – Evansville North High School
Fairmount
Argyll Attack – Madison-Grant High School
Fishers
Tiger Dynasty – Fishers High School
Fort Wayne
Olympus Robotics – Homestead High School
Greenwood
Red Alert – Center Grove High School
Huntington
Team THRUST – Independent
Kokomo
TechnoKats Robotics Team – Kokomo High School
PantherTech – Western High School
CyberTooth – Northwestern High School
Lafayette
Westside Boiler Invasion – West Lafayette High School
Maverick Boiler Robotics – McCutcheon High School
Matthews
PhyXTGears – Family/Community
Mishawaka
Penn Robotics – Penn High School
Monticello
TL Fearsome Gears – Twin Lakes High School
Munster
Munster Horsepower – Munster High School
Newburgh
Castle Robotics – Castle High School
Princeton
Disco Ducks – Princeton Community High School
South Bend
Career Academy Robotics – Wolf Pack (Career Academy South Bend)
Washington
Hatchet Robotics – Washington High School
Westfield
SHAM-ROCK-BOTICS – Westfield High School
-----------
Visit this page to learn more about the FIRST Robotics Indiana State Championships.
MEDIA CONTACT:
Dale H. Long  |  Executive Editor and Director of Media Relations
Office of Communications and Marketing
ROSE-HULMAN INSTITUTE OF TECHNOLOGY
5500 Wabash Avenue  |  Terre Haute,  IN  47803-3999
Phone:  812.877.8418  |  Cell:  812.208.5615
Dale.Long@rose-hulman.edu